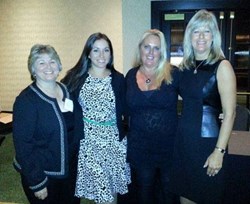 Stephanie's story truly exemplifies the power of the human spirit. She was an inspiration to all. --Office Managers Association
South Orange, New Jersey (PRWEB) November 16, 2013
In March of 2012, Stephanie Decker, an Indiana resident did what most parents would do, she shielded her children from debris that was flying through the air during a massive tornado. While protecting them, her home came crashing downward, crushing both of her legs. By a miracle, her children were unscathed. Stephanie's faith kept her strong and helped her survive, but unfortunately, both of her legs had to be amputated. Since that time, Stephanie's true story of overcoming adversity began.
In November, Barnabas Health held their Seventh Annual Celebration for their Office Managers Association. This year was special for the attendees because it marked the one year anniversary since Super Storm Sandy roared in and ripped away so much for so many New Jersey residents.
In Stephanie Decker's speech, she was able to relate to the rebuilding and change. When Stephanie lost her legs, she had to learn to walk all over again -- but this time using two prosthetic legs. She also touched on how important teamwork was in saving her life, just like it was a vital part in the aftermath of Sandy.
It has been a long road to recovery for the residents of Jersey as well as Stephanie. Each day is a new challenge, but "attitude" as Ms. Decker described, "will carry you a long way to getting your life back."
Stephanie certainly knew her audience, getting a positive reaction when she stressed the importance of "Jersey Strong" --- which became the motto for those still recovering in this area.
Since the tornado, Stephanie has been sharing her positive message as a motivational speaker. Not only does she tell her story, but she incorporates nuggets of take-home value for her audience.
"No one does it alone," she said. It was all of her doctors, family, and friends who inspired her. Her message was also about change, "because, that's the one thing that's constant."
She also shared the positive impact of goals. Most recently, in Hawaii, she surfed for the first time. "It wasn't pretty," she laughed, but "I did it."
"My hope," Stephanie said, "is that attendees leave with the feeling that they, too, can accomplish anything." There was no doubt as this crowd gave her a standing ovation.
While this event was for a health group, Stephanie says, her story "is so universal. Everyone has a story. And every story is important. We all have struggles and adversity to overcome. I'm amazed how often, when I do these engagements, the people meet ... they inspire me."
If organizations are interested in inviting Stephanie Decker to present as a keynote at a conference, convention, business meeting, or lecture series event, contact Eagles Talent.
Eagles Talent Speakers Bureau was founded in 1979 with the single focus of making a positive impact on organizations by providing thought-provoking professional keynote speakers, top motivational speakers, business thought leaders to clients all over the world for meetings, conferences, conventions, and special events. Eagles Talent Speakers Bureau has over 30 years of service and believes in people who inspire, educate, and entertain. To contact Eagles Talent Speakers Bureau regarding Stephanie Decker, visit our website http://www.EaglesTalent.com, or call us at 1-800-345-5607.