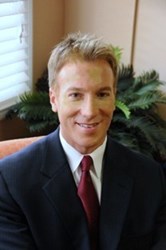 As the exclusive ELP for New York City, Edwards Financial is excited about this event and our growing relationship with Dave Ramsey
New York, New York (PRWEB) November 18, 2013
Edwards Financial Services has announced a sponsorship of The Legacy Journey Live event by Dave Ramsey. The event is to be held at the New Jersey Performing Arts Center in Newark, New Jersey on November 21, 2013.
Edwards Financial Services, a firm dedicated to establishing genuine relationships with its clients, is the official Dave Ramsey Endorsed Local Provider (ELP) for the City of New York. "As the exclusive ELP for New York City, Edwards Financial is excited about this event and our growing relationship with Dave Ramsey".
New York Times best-selling author and nationally syndicated radio show host, Dave Ramsey, is bringing his new live event, The Legacy Journey, to the New York area.
"To leave a legacy behind, you have to live a legacy now," says Ramsey. "The Legacy Journey equips you with the tools for managing your resources wisely and living a generous life."
Ramsey's event will debunk myths about wealth and stewardship. Attendees will gain a better understanding of contentment and living with a purpose.
Edwards Financial Services is an independent firm working with top insurance and financial service teams to assist their clients in diversifying their investments. "Not only do we work for you, the client, we work with you" states Jason Edwards who was named the 2009 Executive of the Year by the Orlando Business Journal. In 2012 and 2013, Edwards Financial Services was named as one of Florida's top Financial Advisory Firms by the U.K.-based, "Acquisition International Magazine". Jason Edwards is currently endorsed by the NYC Dave Ramsey Group for financial planning services; providing insurance and retirement planning for their private wealth clients.
More information about Dave Ramsey and his Legacy Live Event can be found on their website at http://www.daveramsey.com.