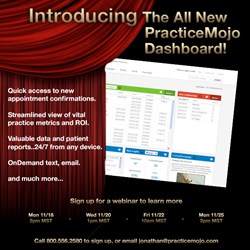 We're extremely excited to be releasing our new dashboard. It not only brings even more time savings for our customers, but additional features designed to schedule even more new appointments.
Phoenix, Az (PRWEB) November 19, 2013
PracticeMojo, a leading developer of marketing and automated communication software for dental practices, has launched its redesigned user dashboard. Upgrades to the PracticeMojo interface are meant to provide an even simpler way for dental practices to communicate with patients and gather vital information to help improve their future business and marketing efforts.
Newest features include:
-Quick access to new appointment confirmations
-A streamlined view of vital dental practice metrics and ROI
-Valuable data and patient reports...24/7 from any device
-OnDemand text and emails
-and much more...
Users of PracticeMojo can expect the new dashboard to present information in a neatly organized and more efficient manner. Not only will the user have access to a robust view of appointment and scheduling data, but they will also be able to conveniently access ROI data reports from any computer, 24/7. Newly implemented at-a-glance icons, as well as more accessible on-demand text, email and postcards not only reduce inefficiencies in daily tasks, but also improve individual patient relationships.
If you are interested in learning more about the new PracticeMojo design and improved capabilities, visit practicemojo.com or call 800.556.2580
PracticeMojo puts more than 40 years of dental practice marketing experience to work creating proven campaigns that help dental practices recruit, retain and reactivate patients automatically, using email, text messages and mailed postcards. PracticeMojo also offers integrated social media solutions and a consistent, reliable patient communication and marketing strategy. Learn more at practicemojo.com.