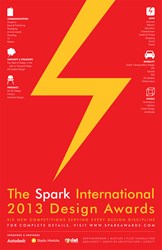 New York City, NY (PRWEB) November 15, 2013
Over a single week, seven Spark Design Award juries analyzed submissions from over 27 countries. "It was exhilarating, exhausting, serious yet fun," said Spark Director Peter Kuchnicki. "Our jurors tackled their disciplines in different ways. It was quite an experience to see and hear the juries respond to the work. Their method evolved throughout the day, fueled by lots of debate and no small amount of caffeine."
The seven lists of competition winners are available at the Spark Awards website. The winners range from the Bronze Award winners to the highest award, the Spark! The seven competitions had completely independent juries for Experience Design, Product Design, Spaces Design, Transport Design, Communication Design, App Design and Concept Design.
Jurors worked with a variety of media, including display boards, models, prototypes, digital images, storyboards, videos and physical designs. "Spark Transport judges appreciated the opportunity to test drive the Mazda 3 and Chevy Spark EV," according to Transport Jury Chair, Geoff Wardle, Director of Advanced Mobility Research at Art Center College of Design. "This jury reviewed a wide selection of transportation solutions, including heavy equipment concepts, bikes, aircraft interiors, train stations, quads, scooters—even an advanced wheelchair called the WHILL."
The competitions featured many pieces that reflect Spark's mission to emphasize "good design"—works that contribute directly to building a better place to live. The images illustrated in this release are all from top-tier awards that epitomize these criteria.
"With over 170 winning designs, we can't list them all in this release," Kuchnicki stated. "However, many of them will be exhibited at the Spark Awards Pavilion at the China International Industrial Design Fair, November 30–December 3 in Shenzhen. Spark is mounting a multi-year exhibition of winners in a 275sm space designed by Mitchell Mauk of San Francisco." (Bottom image on right).
"The winners will also be exhibited in the Autodesk Gallery in San Francisco in February, in Taipei in March/April and may be viewed at our website. We highly recommend visiting the 2013 Spark Galleries. The work speaks for itself. It's outstanding and we applaud all the discipline, creativity and difficult choices that went into them. Bravo—entrants, finalists, winners and jurors of the 2013 Spark Design Awards!"
Bonus Information
Spark is proudly supported by Autodesk, Core77, ArchNewsNow, Archinect, Bustler, Pluo Consulting, Gensler and RIOT Creative Imaging.
All Seven Spark Competitions Will Be Back: Call For Entry, April 15, 2014.
The Spark Design Awards core mission is to help create a better world though design excellence. "Let's See What You've Got!"
Learn more about this organization and all these competitions at the Spark website landing page at http://www.sparkawards.com.