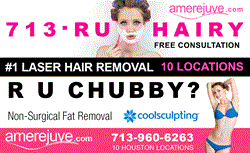 After the acquisition of R U Hairy, our marketing team has come up with so many creative designs that incorporate 'R U' as our branding. R U Hairy and R U Chubby are our first campaigns.
Houston, TX (PRWEB) November 20, 2013
Amerejuve MedSpa and Cosmetic Surgery announces the launch of its first "R-U" campaign to promote their options for laser hair removal and non-surgical fat removal in Houston. The expansive billboard campaign has begun along Houston highways and city streets.
Amerejuve is taking a humorous approach to weight loss with the tag R U CHUBBY, a tie-in with Amerejuve's recent acquisition of R U HAIRY, a Houston fixture known for effective laser hair removal.
"After the acquisition of R U Hairy, our marketing team has come up with so many creative designs that incorporate 'R U' as our branding. R U Hairy and R U Chubby are our first campaigns," said Tim Brinkley, Director of Marketing at Amerejuve.
Amerejuve has partnered with CBS Outdoor to bring the billboards to Houston.
"CBS Outdoor and I are so excited to form a partnership with Amerejuve. I am looking forward to a successful campaign in 2014," said Brandon Wilburn, Account Executive with CBS Outdoor-Houston.
Laser hair removal is a safe and effective treatment that can permanently reduce unwanted hair in nearly any area of the body. In laser hair removal, a medical laser targets hair follicles that are in the "growth" stage of the hair cycle, preventing the follicle from producing hair in the future.
For "R U Chubby" and non-surgical fat removal, Amerejuve is highlighting CoolSculpting by Zeltiq®, a procedure that permanently destroys fat cells by freezing them, leaving the surrounding tissue untouched. This procedure is popular for losing inches in areas that tend to collect stubborn fat, such as the stomach and thighs.
Both procedures are non-invasive and have little to no downtime.
About Amerejuve MedSpa and Cosmetic Surgery:
Amerejuve MedSpa and Cosmetic Surgery's innovative approach to wellness combines beauty, science and service to fit each client's goals, whether that means esthetic services that are preventative or restorative (correction, reduction or enhancement). Amerejuve's full line of beauty services, which include laser hair removal, body contouring and cellulite reduction, lip enhancement, facial contouring, wrinkle removal, sun spot removal, acne scare repair, and cosmetic surgery, is unparalleled in the medspa industry, and all services are available at affordable prices. Amerejuve is also the only medspa in Houston that offers customer service to clients 24 hours a day, seven days a week via phone or through their website.
With so many locations throughout the Greater Houston Area, Amerejuve has become Houston's number one provider of laser hair removal, cosmetic and non-surgical skin treatments. Medspa services include BOTOX®, RADIESSE®, Restylane®, JUVÉDERM®, ReFirme™, LATISSE®, VelaShape™, CoolSculpting by Zeltiq®, Zerona®, VASER® Shape, Bella Contour, Ultherapy® non-surgical facelift, eMatrix® skin resurfacing and rejuventation, Sciton skin resurfacing, cellulite and circumferential reduction, laser-based skin rejuvenation, skin tightening, microdermabrasion, IPL Photofacial treatments, and chemical peels, all available at Amerejuve's ten state-of-the-art facilities with locations in Galleria, Memorial, River Oaks, Dunvale, Sugar Land, Katy, North FM 1960, The Woodlands, Kingwood, and Clear Lake. Amerejuve's board certified cosmetic surgeons also perform breast augmentation, breast lifts, breast reduction, rhinoplasty, abdominoplasty (tummy tuck), face lifts, eyelid lifts, brow lifts, liposuction, and more.
To schedule a free consultation at any of the ten Amerejuve locations, please call (713) 960-6262 or visit them on the web at http://www.amerejuve.com.
Amerejuve can also be found on Facebook (http://www.facebook.com/AmerejuveMedSpa), Twitter (http://www.twitter.com/AmerejuveMedSpa), Pinterest (http://www.pinterest.com/AmerejuveMedSpa) and YouTube (http://youtube.com/Amerejuve).
About Amerefit
Amerefit is the name of Amerejuve's personalized weight and wellness services. The Amerefit weight management program is tailored to a client's specific metabolism, diet and exercise genes, food preferences, and cardiometabolic profile. The program utilizes advanced metabolism measurement, genetic testing, and cardiometabolic testing to complete a comprehensive assessment before designing a personalized weight management program for each client. Amerefit also provides effective metabolism-boosting formulations (RedCapsule365 and B12 MetaBoost injection), body activity tracking, and e-coaching motivational tools. Amerefit coaches support clients throughout the program, monitoring progress and providing accountability and encouragement to enable clients to make healthy, long-term lifestyle changes. Amerefit wellness services include food sensitivity testing, nutritional counseling, a basic wellness assessment including blood and saliva testing, B12 injections and energy boosting, and more.
To learn more about Amerefit, visit http://www.amerefit.com or call (713) 781-7332.
Amerefit can also be found on Facebook (http://www.facebook.com/Amerefit) and Twitter (http://www.twitter.com/amerefit).
Media Contact
Kelsie Cleboski
832-589-1436
###