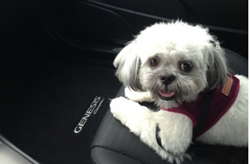 It brings a lot of excitement to the dealership, and our staff and customers have a blast with all of the dogs. It's a great cause, and we are proud to be a part of this animal rescue program.
Chicago, IL (PRWEB) November 15, 2013
McGrath City Hyundai is proud to announce their 2nd official Adopt-a-Pet Day taking place this Saturday from 10:00 am-3:00 pm at the dealership, located at 6750 W. Grand Avenue, Chicago, IL 60707. Meet a new furry friend at McGrath City Hyundai and help save a life by adopting an animal through the "McGrath Hyundai to the Rescue" program.
The program features rescue pets coming from three different organizations, Players for Pits, Black Dog All Breed Rescue, and Recycled Pits.
McGrath City Hyundai welcomes families to stop by the dealership for the fun opportunity to meet over 30 puppies and dogs who are ready to be adopted.
"Every companion animal deserves a loving home," said Jody Adams, Sales Manager at McGrath Hyundai. "It brings a lot of excitement to the dealership, and our staff and customers have a blast with all of the dogs. It's a great cause, and we are proud to be a part of this animal rescue program."
For details and information please call Armi Matienzo at 773-804-5052.
About Players for Pits
It is the goal of Players for Pits to run events and partner with small businesses to raise money to help local rescues pull dogs from death row, place them in homes, and treat their severe medical issues. Players For Pits is a non-profit organization geared towards helping abused animals. Most of the dogs we come across are in terrible conditions and unfortunately have been the victims of abuse. While most of the abused dogs are pit bulls, we stand as an advocate for all dogs.
About Recycled.Pits
R.P. is a Chicago based dog rescue serving to assist and advocate for the needs of adoptable dogs, as well as educate the public about the often misrepresented breeds known as "pit bull type dogs" or "bully breeds" in an effort to find them adoptive homes. Recycled.Pits is non-profit organization that helps all breeds, not only pits.
About Black Dog All Breed Rescue
Blackdog All Breed Dog Rescue is a licensed, not for profit organization dedicated to the rescue and rehabilitation of abandoned dogs from high kill shelters. Working with committed volunteers, foster homes, local veterinarians and trainers we are able to provide compassionate care for dogs in need until their forever home is found.
About McGrath City Hyundai
Our first Adopt-a-Pet Day at McGrath City Hyundai was a success, and many furry friends found loving homes. Join us again in our efforts to help lovable animals find a life-long family to call their own.
The McGrath Family has over 60 years of car experience. For over four generations, from sales to service, your complete satisfaction is our number one priority. We know you have a choice when you choose your automobile dealer. "When you do the Math, you'll choose McGrath!"
Every McGrath City Hyundai vehicle is also backed by award-winning service. Our factory-trained technicians will work to get you in and out as quickly as possible and on your schedule. Free shuttle service is available and loaner cars are also an option based on availability.
Located at 6750 W. Grand Ave. Chicago IL, the dealership has hundreds of new Hyundais and a great selection of pre-owned and certified vehicles. We have something on our lot right now to fit you and your budget. We promise to provide a customer-friendly purchase experience and a responsive and reliable experience in our service department. Our customers can come in and take advantage of our knowledgeable certified technicians and a fully-stocked inventory of parts.
For additional information please call 773-295-4800 or visit http://www.mcgrathhyundai.com.