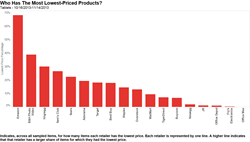 When competitive price intelligence is part of an integrated assortment, brand, and customer strategy, retailers can compete effectively with Amazon.
Ottawa, Canada (PRWEB) November 15, 2013
360pi today announced the findings of its initial "Amazon Holiday Pricing Insights" analysis. This analysis takes an inside look at pricing for Amazon's own product assortment in select categories relative to other retailers. Since Amazon picked these products to carry, one would expect them to make a strong showing, and they did in fact have the most competitive price 80% of the time. What was somewhat of a surprise was that other retailers are playing and winning on Amazon's "home turf" or product assortment 20% of the time. The analysis shows that Amazon does have weak spots, and that retailers can compete with the online giant, especially if they can beat Amazon on other non-price purchase factors.
The "Amazon Holiday Pricing Insights" dashboard reports provide a daily view into Amazon's pricing strategies and tactics during the critical holiday shopping season across eight different categories including televisions, cameras, video games and power drills, among others. In addition to Amazon, the report provides daily pricing insights for 27 other retailers from November 15 to December 2, representing the two weeks prior to Black Friday, Cyber Monday, and the weekend in-between.
"Given that our holiday reports are based on products drawn from Amazon's own assortment, you would expect them to be price competitive," stated Alexander Rink, CEO, 360pi. "What is interesting is that when you factor in different retail competitive strategies like carrying a different assortment, leveraging private label, delivering targeted customer promotions, and creating unique customer experiences in addition to price leadership, it certainly appears that retailers are learning how to compete with Amazon."
Other key findings include:

As an example of dynamic pricing, a look into the pricing history of 'power drills' (from Oct. 16- Nov. 14) showed that once Home Depot decided to be price competitive on Oct. 26, they were instantly and dynamically able to beat Amazon prices.
In the 'video games' category, Amazon and Walmart have obviously designated this category as a dynamic pricing focus, which allows them to react to competitive pressures and change prices much more quickly.
'Tablets' and 'televisions' are the categories where a majority of retailers are either price competitive or closer to the mark than other categories, such as 'printers' and 'video games,' which show the least amount of price competitiveness. Top retailers such as Best Buy, Walmart, and Sears and Costco are less than 5% over, or better priced, than Amazon in 'televisions,' for example. The chart below illustrates the price of tablets from Oct. 16 - Nov. 14. During this period, Amazon had the lowest-priced tablets 68% of the time—which means retailers are currently beating Amazon with lower tablet prices 32% of the time.
"We have drawn some key insights from this first round of reports. Retailers have clearly selected certain products and categories to be very price competitive in, most notably electronics," said Rink. "As well, our analysis highlights that dynamic pricing is not just a hot topic, but that there is evidence of its successful implementation at select retailers today. Finally, when competitive price intelligence is part of an integrated assortment, brand, and customer strategy, retailers can compete effectively with Amazon."
Sign up now to receive future editions of 360pi's free holiday dashboard reports.
About 360pi
360pi helps top retailers compete and win in an era when shoppers demand complete price transparency. Our customer base of "brick & mortar", e-commerce, and multichannel retailers accounts for over $US100 billion in annual retail sales and includes Ace Hardware, Best Buy Canada, and Overstock. Our clients gain real-time visibility into the market, full awareness of the competitive pricing landscape, and the ability to "right-price" to shoppers. Ultimately, our customers realize smarter pricing decisions that drive increased conversions, revenues, margins and customer loyalty.