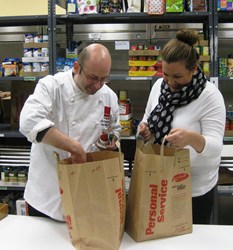 'This is a terrific event for all of our creative students who are looking to make a difference.' -RMU Chef Mark Wroczynski
Orland Park, IL (PRWEB) November 16, 2013
Food pantry clients undoubtedly are grateful for the groceries they receive. But they can also face a challenge with foods they might not have bought for themselves, like canned clams or dried pinto beans.
What could be more challenging than feeding your family well with items you haven't chosen but must use?
Together We Cope, a nonprofit based in Tinley Park that assists families in crisis from 22 south suburban communities, is challenging culinary students at Robert Morris University to see who can create the best meals using only groceries clients typically receive at TWC's pantry. The Food Pantry Challenge, a cook-off that will be judged by professional chefs from southwest suburban restaurants, is Nov. 23 from 11 a.m. to 1:30 p.m. at RMU's campus, 43 Orland Square, Orland Park, Ill.
The ultimate winners of the competition will be the agency's food pantry clients, said Kathryn Straniero, TWC's executive director. "Our goal with this event is to generate recipes for our clients to help them make the most of food they get, and we're delighted that RMU students are up to the challenge," she said.
RMU Chef Mark Wroczynski said, "This is a terrific event for all of our creative students who are looking to make a difference."
Up to 10 teams of two to three culinary students each will pick up groceries designed for a family of eight at TWC's food pantry, 17010 S. Oak Park Ave., the day before the Saturday cook-off. Teams will receive several pre-packed bags of staples and will have just a few minutes to choose produce, dairy products and meat – just the way clients do when they come to TWC's food pantry. Both the food and the pantry visit will closely mirror the clients' typical experience.
At 8:30 a.m. on Nov. 23, student teams will head to the demonstration kitchen at RMU's Orland Park campus, where they will have about four hours to come up with several family-style dishes suitable for an evening meal. At 1 p.m. the professional chefs will award a Grand Prize with points for creating dishes that can be made in 30 minutes or less, that generate leftovers for subsequent meals, which will appeal to children, and for making dishes that taste good and are nutritious.
Another prize, the Good Home Cooking Award, will go to the team selected by longtime TWC volunteers John and Pat Slack. Additionally, members of the media covering the event are invited to sample the student dishes and vote for a team to receive the Media Award.
Recipes generated by the students will be distributed to TWC's food pantry clients after the event and also will be available on the agency's website, http://www.togetherwecope.org.
TWC serves about 65 families per day at its food pantry, one of the largest in the south suburban area. Open five days a week and outfitted with industrial-sized refrigerators and freezers, TWC is able to provide not only staples but also a large range of fresh and frozen food to people from 22 suburbs who live in Bremen, Orland, Palos and Worth townships. Nationally, food insecurity affects large numbers of U.S. residents, with 43 percent receiving some form of food assistance.
Together We Cope, founded in 1982, is dedicated to bridging the gap for Southland residents in temporary crisis by providing food, shelter, clothing and referrals, empowering them to return to self-sufficiency.
Photo caption:
Food Pantry Hosts Culinary Competition: Chef Mark Wroczynski of Robert Morris University and Katlin Bewley of Together We Cope get ready for the Food Pantry Challenge on November 23, 2013, in Orland Park, Ill.