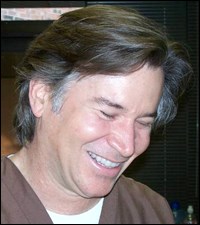 Austin, TX (PRWEB) November 14, 2013
Dr. David A. Baker is increasing awareness this November that gum disease can cause diabetes, and that diabetes can also contribute to the development of gum disease. These two diseases are both very prevalent in the United States, with nearly half of the population suffering from some form of gum disease, and 8.3 percent of Americans affected by diabetes. At his practice in Austin, TX, Dr. Baker performs state-of-the-art gum disease treatment to help reduce patients' risk of developing illnesses like diabetes.
Recent research has suggested that the link between these two diseases goes both ways. Diabetes can lead to gum disease by weakening the immune system and making the body more prone to infection. In turn, gum disease can also lead to diabetes. This is because a chronic infection like periodontitis can result in fluctuating glucose levels. Timely and effective treatment of gum disease may reduce risk of developing diabetes in many cases. With this goal in mind, Dr. Baker offers the Laser Assisted New Attachment Procedure (LANAP) to eligible patients.
LANAP uses a highly selective laser instead of a scalpel, making it less invasive than more traditional methods of treatment. The Periolase MVP – 7 laser targets and removes diseased tissue while leaving healthy tissue alone. This allows healthy tissue to re-connect to the roots of teeth and optimize healing. LANAP is also one of the only forms of periodontal treatment that helps to reverse dental bone loss related to gum disease. In many cases, Dr. Baker's Austin, TX, patients experience fast healing times and very little discomfort with this alternative form of gum disease treatment.
Dr. Baker wants to remind patients that reducing risk of diabetes is important because it can be a difficult-to-manage disease with very serious complications. Potential complications include neuropathy, problems with vision, digestive problems, and even emotional issues related to living with diabetes. Diabetes sufferers should be mindful of their illness being a potential gum disease cause and should practice good oral health care to prevent gum disease. For more information about the link between these two illnesses and treatment options for periodontal disease, visit http://www.davidabaker.net.
About The Doctor
Westlake Family Dental Care is a general practice offering personalized dental care for patients in Austin, TX since 1997. Dr. Baker received his dental degree from the University Of Texas Health Science Center San Antonio Dental School and scored in the top two percent of the nation in Endodontics and Periodontics. He is part of one percent of dental professionals providing the LANAP FDA cleared laser procedure for gum disease and periodontal treatment. Dr. Baker stays abreast of the dental techniques and technology by attending at least 30 hours of continuing education each year. In addition to LANAP, Dr. Baker provides services such as fixed lower dentures, mini-implants, and TMJ. To learn more about Westlake Dental Care and their dental services, visit their website at http://www.davidabaker.net and call (512) 782-8422.