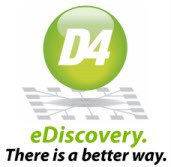 Rochester, NY (PRWEB) November 15, 2013
D4, LLC, a national provider of eDiscovery, digital investigations, information management and security solutions and deposition services to law firms and corporations, announced today that Tom Groom, vice president of discovery engineering, D4, will be a featured speaker along with Stephen Goldstein, director of practice support at Squire Sanders, an international law firm, during an Equivio-sponsored webinar on Tuesday, November 19, 2013 at noon EST. The complimentary webinar is titled: Predictive Coding Minus the Hype.
Both Groom and Goldstein will share their experiences using predictive coding over the past two years. In this webinar, they will discuss:

When and why they started working with predictive coding
Overview of the metrics used on a case
Details of a few key cases
Other approaches and technologies used in conjunction with predictive coding
Lessons learned
For more information and to register, click here.
About Equivio
Equivio develops text analysis software for e-discovery. Users include the DoJ, the EPA, KPMG, Deloitte, plus hundreds of law firms and corporations. Equivio offers Zoom, an integrated web platform for analytics and predictive coding. Zoom organizes collections of documents in meaningful ways. So you can zoom right in and find out what's interesting, notable and unique. Just like the software itself. Visit http://www.equivio.com for more information.
About D4
D4 is a leading national provider of electronic discovery, computer forensics and litigation support services to AMLAW200 firms and Fortune 1000 companies. D4 was one of the first providers to offer an eDiscovery Managed Services solution, eNtrust, which launched in 2011. D4 has been instrumental in helping customers realize up to a 70 percent cost reduction over previous e-discovery solutions. The company's state-of-the-art data center operations in Rochester are complemented by electronic discovery and litigation support offices throughout the U.S. D4 has been recognized by Inc. Magazine as one of the fastest growing private companies in the US and is an INC 500/5000 honoree. Visit http://www.d4discovery.com for more information.
Contacts:
Nancy Pieretti
nancypieretti(at)mail(dot)com
603-268-8007
Martha MacPherson
Vice President of Marketing, D4
mmacpherson(at)d4discovery(dot)com
585-512-3758