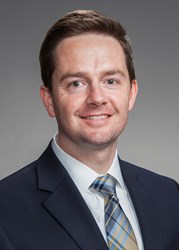 Denver, Colorado (PRWEB) November 15, 2013
Holland & Hart LLP is pleased to announce the addition of Kevin McAdam to the firm's Commercial Litigation practice. He is based out of the firm's Denver office.
McAdam advises clients on various commercial litigation matters, with an emphasis on financial services and securities.
Prior to joining Holland & Hart, McAdam was a law clerk for the Honorable Christine M. Arguello on the U.S. District Court for the District of Colorado and for the Honorable John R. Webb on the Colorado Court of Appeals.
McAdam is a member of the Colorado and Denver Bar Associations. He is also a member of the Colorado Bar Association Civil Rights Committee.
He holds a J.D. from the University of Colorado Law School and a B.A. from Boston College.
About Holland & Hart
Holland & Hart LLP delivers integrated legal solutions to regional, national and international clients of all sizes.
Since its inception in 1947, Holland & Hart's more than 450 lawyers have consistently been recognized by leading national and international peer and industry review organizations for innovation and dedication to the practice of law.
For more information, visit http://www.hollandhart.com.