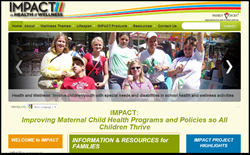 "This website offers info and tips families can use to fit into their own lives."-Molly Cole, National Family Voices President
Albuquerque, New Mexico (PRWEB) November 15, 2013
Families today are bombarded with information on how to improve their children's health and wellness. Fact, fiction, myth, vendors selling questionable goods - the sheer volume is potentially overwhelming. For families struggling to raise their children with healthy lifestyles, health recommendations often seem to be written in a vacuum—or it feels that way to the families trying to fit them into already full lives.
Families who have children with special health care needs—approximately 15% of the nation's families—face additional enormous challenges in trying to address not only the special needs, but also health and wellness, issues just as important for children with special health care needs as they are for typically developing children.
Family Voices IMPACT Project has launched a new website, http://www.fv-impact.org, to help families find health and wellness information they can trust, understand, and use in their day-to-day lives. The website is organized around the Bright Futures Health Promotion Themes of the American Academy of Pediatrics: Family Support, Child Development, Emotional Well-being and Mental Health, Healthy Weight, Healthy Food and Eating, Physical Activity, Oral Health, Healthy Sexual Development and Sexuality, Safety and Injury Prevention, and Community Relationships and Resources. The website also includes resources for additional information from other trusted and reliable organizations and agencies. The IMPACT Health and Wellness for Families website is a valuable resource for parents, educators, health care providers, and anyone interested in how to promote health and wellness at the individual, family, and community levels.
Molly Cole, National Family Voices President notes, "This website offers info and tips families can use to fit into their own lives, and shares information that is valuable to the wider world of family health and wellness. The site promotes health and wellness knowledge for all families, including culturally diverse families and families with children and youth who have special needs and disabilities. I hope parents and other care providers find this helpful as they make decisions for their family!"
IMPACT (Improving Maternal Child Health Policies so All Children Thrive) is a project of National Family Voices. IMPACT works with family organizations (those serving all children as well as those specializing in children with special health care needs) to address health promotion and prevention for children. IMPACT also works with national policymakers to ensure families and family-led organizations play a major in addressing and solving health problems over the life span – from birth to young adulthood. Together with friends, families, communities, and health care providers, actions can be taken to improve health and well-being for not just individual families, but whole communities. IMPACT is funded by HRSA (Health Resources Services Administration) through a cooperative agreement to promote health and well-being for all families.
About Family Voices:
Family Voices aims to achieve family-centered care for all children and youth with special health care needs and/or disabilities. Through our national network, we provide families tools to make informed decisions, advocate for improved public and private policies, build partnerships among professionals and families, and serve as a trusted resource on health care. Family Voices is national non-profit family-led organization with state affiliates in 42 states.
For more information about National Family Voices please visit http://www.familyvoices.org. For more information about Family Voices IMPACT visit http://www.fv-impact.org or contact Leslie Carroll at lcarroll(at)familyvoices(dot)org.