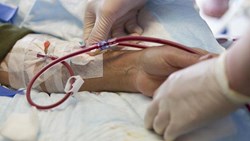 Fresenius achieves their leading position in the market through successfully participating in more dialysis segments than any of its competitors.
Vancouver, BC (PRWEB) November 18, 2013
iData Research, the leading global authority in medical device market and pharmaceutical market research, has recently published a report for the U.S. dialysis devices and concentrates markets. The report estimates a combined market value of $1,650 million and growing. The total market is comprised of the markets for hemodialysis machines, dialysis catheters, dialysis concentrates, dialyzers, dialyzer reprocessing machines, hemodialysis bloodlines, AV fistula needles, AV grafts, AV declotting devices, guidewires, introducer sheaths and water treatment systems.
There is an ever expanding demographic of Americans suffering from end-stage renal disease (ESRD). Due to this growing patient population amongst other factors detailed in the report, the total dialysis device and concentrates market will grow to a value of almost $2 billion over a ten year forecast period.
Water treatment systems comprise the fastest growing market with trends towards more purchases of expensive heat disinfectant systems. Over the next few years, the sales of heat disinfectant water treatment systems will grow to account for nearly 75% of all water treatment systems. "Chemically disinfected systems have long been the standard for the treatment of water used for dialysis," says Dr. Kamran Zamanian, CEO iData Research. "However, stricter regulations and enforcement have increased the need for products that can provide the highest level of quality assurance without demanding frequent servicing and labour hours." These demands are resulting in increased usage of heat based disinfectant water treatment systems. Although such systems are often much more costly to install initially, their operating costs, reduced labour requirements and quality of water treatment will continue to result in strong market growth.
Fresenius is the leading competitor of the total dialysis device and concentrates market with almost half of the total market share. The company achieves their leading position in the market through successfully participating in more dialysis segments than any of its competitors. Fresenius also owns and operates many of its own dialysis centers, which account for a large proportion of all dialysis centers in the United States.
Competitors analyzed in the report include C. R. Bard, MarCor, Medcomp, Baxter, Medisystems, Medivators, Covidien, Asahi Kasei Medical, B. Braun, Rockwell, Teleflex Medical, AngioDynamics, AmeriWater, Terumo, Edwards Lifesciences, NxStage Medical, Gambro, MEDRAD, Cook Medical, W. L. Gore, Cordis, Kawasumi Laboratories, Argon Medical, LeMaitre Vascular, Maky, etc.
The information above is derived from a market intelligence report entitled U.S. Dialysis Devices and Concentrates Market. Click here for a free synopsis.
About iData Research
iData Research is an international market research and consulting group focused on providing market intelligence for medical device and pharmaceutical companies. iData covers market research for infusion therapy, anesthesia, diabetes and more.