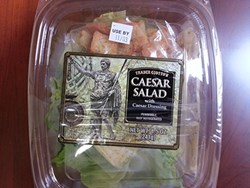 Consumers deserve better. - Bill Marler
Santa Rosa, CA (PRWEB) November 15, 2013
In a lawsuit filed Thursday, a Sonoma County woman alleges she fell ill with an E. coli O157:H7 infection and was hospitalized after eating a salad manufactured by Glass Onion Catering. The lawsuit was filed in Sonoma County Superior Court (Case Number SCV 254623) by Seattle-based Marler Clark, the nation's leading law firm representing victims of foodborne illness, and San Diego-based Gordon & Holmes. This is the first lawsuit filed against Glass Onion Catering, the company whose salads and wraps have been identified as the source of an E. coli outbreak among residents of 3 states. [1]
According to the complaint, the plaintiff consumed a salad manufactured by Glass Onion Catering on October 15, 2013. She allegedly fell ill with symptoms of E. coli infection on October 18 and was admitted to Santa Rosa Memorial hospital for treatment on October 30. Her attorneys assert that a stool sample obtained while she was hospitalized tested positive for a strain of E. coli O157:H7 that was an indistinguishable match to the Glass Onion Catering outbreak strain. Although the plaintiff was released from the hospital after one day of treatment, the complaint alleges that she continues to suffer from the symptoms of her E. coli infection.
"What we're seeing here is yet another E. coli outbreak linked to pre-packaged, ready-to-eat food that is supposed to be organic, natural, GMO-free and good for you. Instead, we've seen at least 26 E. coli cases, including 2 cases of hemolytic uremic syndrome," said food safety advocate and attorney Bill Marler. "Consumers deserve better."
As of November 12, the Centers for Disease Control and Prevention had received reports of 26 E. coli cases traced to Glass Onion products; 22 of those cases had been reported among California residents.[1] Glass Onion Catering has recalled its salads and wraps sold at Walgreens, Trader Joe's and Whole Foods stores.[2]
BACKGROUND: Marler Clark has represented thousands of victims of E. coli and other foodborne illness outbreaks since the 1993 Jack in the Box E. coli outbreak (Pierce County Superior Court Case No. 93-2-00930-1). The law firm has recovered over $600 million for victims of not only E. coli, Salmonella, Listeria and hepatitis A outbreaks.
Gordon + Holmes' representative plaintiff cases have involved national foodborne illness outbreaks where hundreds of people were sickened from eating contaminated food, including Chi-Chi's v. Castellini (Ventura County Superior Court No. CIV236710), one of the largest hepatitis A outbreaks in a restaurant industry history; Sheetz v. Coronet (Blair County Civil Div No. 2004GN5396), largest salmonella outbreak in US restaurant industry history; and Foodmaker v. Vons (27CA 4th 473), at the time the largest E. coli outbreak in US history.
1. See, "Multistate Outbreak of Shiga toxin-producing Escherichia coli O157:H7 Infections Linked to Ready-to-Eat Salads". Centers for Disease Control and Prevention. November 12, 2013.
2. See, "California Firm Recalls Grilled Chicken Salad Products Due To Possible E. coli O157:H7 Contamination." United States Department of Agriculture. November 10, 2013. And "Atherstone Foods Voluntarily Recalls Salads and Wraps Because of Possible Health Risk." U.S. Food and Drug Administration. November 9, 2013.