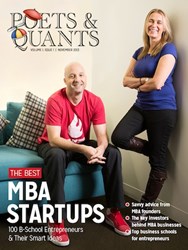 More MBAs than ever are now using their two-year educational experience to incubate new companies
San Francisco, CA (PRWEB) November 18, 2013
Poets&Quants today released the first ever ranking of the top 100 MBA startups in a new quarterly digital magazine.
Who came out No. 1? A Stanford/Harvard duo behind the social media marketing company, Wildfire. Launched in 2008 by Stanford Graduate School of Business MBA Alain Chuard and his now wife, Harvard Business School MBA Victoria Ransom, Wildfire hit the jackpot when it was acquired by Google in August of 2012 for a reported $350 million, plus $100 million in retention bonuses.
Not surprisingly, Harvard and Stanford are well represented in our best of breed. Harvard leads the pack with founders at 34 of the top 100 startups. Stanford follows close behind with 32. However Stanford's startups attracted a cumulative $980.91 million in funding compared with Harvard's $575.75 million.
MIT Sloan is next with 11, followed by Wharton (3), the University of Chicago's Booth School (3), and Columbia Business School (3). Yet, startups from a wide range of business schools landed on the list, ranging from Babson College and Carnegie Mellon and Dartmouth and Yale University.
More MBA students than ever are now using their two-year educational experience to incubate new companies. It is fast becoming the thing to do, pulling many freshly minted graduates away from the consulting, finance, and marketing jobs that have long been the mainstay of the traditional MBA playbook.. This year a record 18% of Stanford's Class of 2013 did startups. So it's worth noting which schools have produced the most successful MBA startups of the past five years and which entrepreneurial ventures have made it big.
To find the top startups, we contacted more than 50 business schools worldwide and asked each to nominate their most successful MBA entrepreneurs. We interviewed professors, consulted with investors, searched the Internet high and low, and ultimately invited startups to nominate themselves. All told, we looked at more than 400 companies to compile our list of the top 100.
To make our list, an MBA startup had to have raised a minimum of $1.6 million, although 61 of the 100 most successful have already managed to convince investors to hand them $5 million or more, and over one-third have raised more than $10 million each. The top 100 have attracted tidal funding of nearly $2 billion in the past five years.
We've devoted the first edition of Poets&Quants brand new quarterly digital magazine solely to the topic of MBA entrepreneurship. Each interactive issue will offer a deep dive on need-to-know topics for curious and competitive MBA applicants. In this issue, readers will find:
· Poets&Quants' first ranking of the top 100 MBA startups
· The top investors in MBA startups
· A results-based ranking of the top 20 business schools for entrepreneurship
· Interviews with the leading entrepreneurship professors at Babson, Berkeley, Harvard and Stanford
· Profiles of the MBA founders behind Poets&Quants' top startups
· Key tips and 20/20 hindsight from successful MBA entrepreneurs
· Profiles on promising MBA startups in social enterprise
*Download the Poets&Quants magazine iPad app for free in the iTunes store at
https://itunes.apple.com/us/app/poets-quants-mba-news-analytics/id737206884?mt=8
**We've attached a website badge for startups named in Poets&Quants' Top 100 list. The badge is free to use but must be linked to http://poetsandquants.com
About Poets&Quants: Poets&Quants is the leading sources of MBA news and analysis by former BusinessWeek Executive Editor and Fast Company Editor-in-Chief John A. Byrne. The site boasts thoughtful commentary, rigorous rankings, insider interviews, and varied perspectives. P&Q curates a wide range of information and voices, including deans, prospective MBA students, alumni, admissions officers, and consultants.
Contact: Lauren Everitt, managing editor, laurenkeveritt(at)gmail(dot)com, +1 979.417.6516