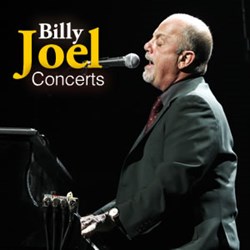 Tickets for the Brooklyn New York performance went sale last week for the public to buy with Billy Joel Tampa, Jacksonville and the second Sunrise concert becoming available today.
Tampa, FL (PRWEB) November 15, 2013
The Billy Joel Tour comes to the United States with more mystery than fanfare. The first Billy Joel concert to test the waters took place in a small theater on Long Island with almost no notice. Rumors about shows in both Sunrise Florida near Fort Lauderdale and Jacksonville started to swirl with only a single show in Sunrise January 7, 2014 confirmed officially at first. In late October a Billy Joel concert New Year's eve in Brooklyn became the second and this week three more concerts in Jacksonville and Tampa and a second Sunrise tour date became confirmed by Billy Joel. Tickets for the Brooklyn New York performance went on sale last week for the public to buy with Tampa, Jacksonville and the second Sunrise concert becoming available today. Will this Billy Joel 2014 Tour visit 50 arenas all over North America? Will he play the Billy Joel New York and Florida shows only to return home? Fans await these answers.
Below find the complete Billy Joel 2014 Tour schedule so far:
Barclay's Center Brooklyn, NY - December 31, 2013
BB&T Center Sunrise, FL - January 7, 2014
BB&T Center Sunrise, FL - January 11, 2014
Tampa Bay Times Forum, Tampa, FL - January 17, 2014
Jacksonville Veterans Memorial Arena Jacksonville, FL - January 22, 2014
As for the songs one may hear at these 2014 Billy Joel concerts, some may not be quite as familiar to those looking to buy Billy Joel tickets, but few may classify as brand new creations. At his impromptu show Billy Joel spoke about playing some songs he rarely if ever performed in concerts before. The tune Blonde Over Blue written for his ex wife Christie Brinkley stood out in the group as he played the song in concert for the first time ever. Other material came from Cold Spring Harbor, the Billy Joel album issued prior to Piano Man. Of course, fans heard Piano Man and many Billy Joel favorites too. Based on the surprise concert on Long Island and a recent Billy Joel concerts in England we prepared a probable Billy Joel 2014 set list indicating songs fans will likely hear. On top of these there should be more which may or may not vary based on the show.
In addition to the Billy Joel Tampa concert, the Tampa Bay Times Forum hosts many other major music events such an Eagles concert next Wednesday, a Miley Cyrus tour date which goes on sale tomorrow, Demi Lovato, Andrea Bocelli and Barry Manilow. The Lightning NHL team serves as the primary winter tenant at the Tampa Bay Times Forum. Speaking of hockey, Canadian singer and hockey patron Michael Buble tickets go on sale today for his 2014 Canada tour including a show in Toronto near Buffalo NY. Buble actually requests a hockey puck from the local team at each arena where he sings.
Billy JoelTour2014.com in association with Tickets-Cheapest.com operates in the ticket resale market, similar to sites like StubHub, which concert fans may be familiar with, only with cheaper prices than other such sites. Often Tickets-Cheapest.com sells the exact same seats as other resale sites, and in an exact seat price comparison, Tickets-Cheapest.com proved its rights to the name by beating 25 out of 25 competitors for low-priced tickets. Give Tickets-Cheapest.com a try for great prices to see great performances. Check out Tickets-Cheapest.com for all ticket needs when looking for seats to sold out concerts. For the most popular shows they offer a large inventory of seats with costs less than other resellers including concert ticket prices better than Stubhub including premium seats and floor tickets. This weekend marks a great time to think about a show with Billy Joel, Michael Buble, Miley Cyrus and Luke Bryan all putting tour dates on sale for the public to buy followed by the new Paul Simon And Sting concerts as well as the Justin Timberlake tour putting tickets on sale for the public Monday.
For all anyone knows these Florida concerts in Tampa, Jacksonville and Sunrise may represent the final public tour dates for Billy Joel. For fans in the area, don't miss this rare chance to see the Piano Man live. If you miss the frantic box office initial sale, don't worry, a large inventory of tickets remain available at the BillyJoelTour2014.com site even after they are sold out from the venue and for less than other resale outlets.
About Financial Firebird, Billy Joel Tour 2014 and Tickets Cheapest
The site to buy cheap concert tickets online, and its sister sites, including the site to purchase Broadway tickets like Motown Broadway, all geared for the consumers looking for low prices, are affiliated with the Financial Firebird Corporation Travel Group, and stand among the top sites sought by travelers and people who enjoy concerts, pro sports and theater performances. Financial Firebird Corporation, established in 2000 and a proud BBB member, provides unbiased consumer information particularly involving personal unsecured debt or mortgages, software and marketing services. These sites for consumers to buy tickets online operate in the resale market and maintain no relationship with the venues or performers. The resale ticket market allows consumers access to popular events once the box office has sold out or to buy premium seats when the venue no longer offers any inventory. Within the group of these secondary market ticket services, the Financial Firebird owned ticket sites offer lower prices than competitors. Find the site at BillyJoelTour2014.com and Tickets-Cheapest.com.