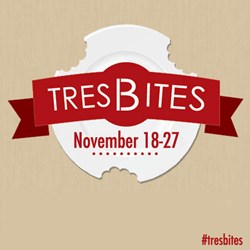 The Blue Star Thanksgiving menu will make the holidays more enjoyable
COLORADO SPRINGS, COLO. (PRWEB) November 15, 2013
Food lovers prepare for Tres Bites at The Blue Star, Nosh, La'au's starting Nov. 18 thru 27, along with The Blue Star Thanksgiving menu, and La'au's' patio expansion and remodel.
Tres Bites
Leading up to Thanksgiving, the three Blue Star Group restaurants will each feature exclusive specials: $5 for a set of the Hawaiian-style Tilapia tacos and a side of tortilla chips at La'au's; $36 for three courses for two and two pints of Bristol Brewing Co. craft beer at Nosh; and $50 for a four-course meal at The Blue Star. Plus, guests are offered a chance to receive a $10 gift card to the Ivywild School valid at The Old School Bakery, The Principal's Office and The Meat Locker by visiting all three local restaurant locations during the Tres Bites promotion between Nov. 18 and Nov. 27.
The Blue Star Thanksgiving
The Blue Star is ramping up for Thanksgiving with Turducken and new pre-made dinner options, including a Boneless Smoke Ham, Half Honey Brined Hickory Smoked Turkey, Miso Maple Glazed Scottish Salmon and Potato Osso Bucco. Every year, nearly 400 locals order a fresh-made, ready-to-bake Turducken from The Blue Star – it is a festive combination of fresh boneless breasts of turkey, chicken and duck layered with Andouille and traditional Blue Star stuffing. Dessert is made by The Old School Bakery. To order, call 719.632.1086 by Nov. 22.

$90 The Family Dinner: includes one protein, three sides, one bread and one dessert (feeds four to six people)
$170 The Big Family: includes two proteins, all sides, two breads and one dessert (feeds eight to 10 people)
$230 The Whole Feast: includes three proteins, all sides, three breads and two desserts (feeds 10 to 12 people)
$70 Vegetarian Dinner: includes osso bucco, four sides, two breads and one dessert (feeds four to six people)
"The Blue Star Thanksgiving menu will make the holidays more enjoyable," said Will Merwin, executive chef at The Blue Star. "These traditional fixings promise an unforgettable meal without the hassle."
La'au's to Expand Patio
La'au's Taco Shop recently announced the plans for interior remodel and expansion of its patio, which will commence on Nov. 28. The Hawaiian taco shop will be closed until Spring 2014 to double its patio footprint to approximately 925 square feet, along with other upgrades. Tres Bites will wrap up the 2013 season for the restaurant adjacent to Colorado College.
For more information and/or to schedule an interview, contact Christina Brodsly at cbrodsly(at)gmail(dot)com or 832.671.5187 (cell).
About The Blue Star Group
The Blue Star Group is the Colorado Springs headquarters for mouth-watering fine fare, and a culinary experience driven by palatable passion and intense attentiveness to detail. Etching its food and lifestyle brands as a benchmark in Southern Colorado since 1995, The Blue Star Group - owned by Joseph Coleman Jr. – operates six venues: The Blue Star, Nosh, La'au's, The Old School Bakery, The Meat Locker, and The Principal's Office.