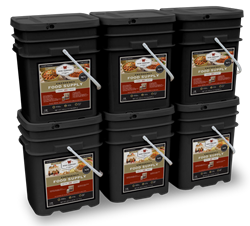 Salt Lake City, UT (PRWEB) November 15, 2013
In response to the massive devastation wrought by Typhoon Haiyan in the Philippines, Wise Company, a major producer of food storage and emergency food products, is sending a shipment of 99,200 servings of its dehydrated emergency food meals to help feed victims of the tragedy.
"The challenges faced by the thousands of affected people in the Philippines are beyond comprehension," says Aaron Jackson, CEO of Wise Company. "Among that which is most needed right now is a safe, stable and nutritious supply of easy-to-prepare food." As an emergency food manufacturer, we feel it is our duty and privilege to help at times like this."
The transport of this desperately needed food to emergency management officials in Philippines is being arranged by the non-profit organization, Convoy of Hope, whose mission is to bring food to hungry populations across the world.
These meals, sealed in lightweight mylar pouches, will be easy for typhoon victims to prepare as only water is required to prepare – whether hot or cold. In addition, the 25-year shelf life of the donated Wise emergency meals allow emergency relief groups to safely store these meals for long periods of time, and in adverse conditions, should they not be immediately needed.
About Wise Company, Inc.:
Wise Company, headquartered in Salt Lake City, Utah, is a leading supplier of high quality, innovative dehydrated and freeze dried food products for emergency preparedness and outdoor use. Wise Company provides great tasting, high quality foods that have been purposely manufactured and packed be prepared quickly and easily. Wise markets its food storage products through a robust internal sales force that sells to channel partners, including retailers and distributors, and direct-to-consumer through its in-house sales force. For more information and a complete list of product offerings, visit http://www.wisefoodstorage.com.