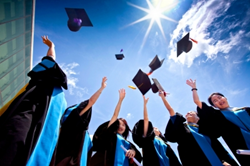 London (PRWEB UK) 18 November 2013
The senior management of UK Universities have now recognized that they need to find greater operational efficiencies, but this is at odds with a general perception of the sector as 'being awash with cash'.
Nick Petford , vice-chancellor of the University of Northampton said in article published in the Guardian on November 13th http://goo.gl/JIJGRz :
"UK universities have been accused of being awash with cash. If only – radical change is now unavoidable."
He goes on to say, "Like it or not, the radical changes to university funding introduced by the coalition government on the back of the Browne Review are well beyond the point of no return. Yet despite this new financial reality, the notion that somehow universities are 'faking it' has taken hold in some quarters. In part it's easy to see why."
"UK higher education remains an international success story, ranking alongside financial services, creative industries and defence as world class economic sectors. Allegedly bloated on student fees and posting record surpluses, universities have been accused of being awash with cash. If only."
"As ever the true picture is far more complex. For example, the lion's share of the sector's record 2010/11 surplus was made by one in five institutions. Fallout from the financial crisis continues to place severe constraints on public funding likely to last until the end of this decade."
"The Department for Business, Innovation and Skills (BIS) is non-ring-fenced and has a tough fight ahead with the Treasury over its dwindling resource, oversubscribed by worthy claims. Universities themselves must be seen to be doing some of the heavy lifting. Rising energy costs, a volatile international market and closer to home pay and pensions all add to the financial strain."
A solution that can quickly reduce operational costs through improved efficiencies and increase revenues from improved staff deployment would surely be recognised as an essential tool to be deployed as soon as possible.
Universities and colleges have thus realised the importance of monitoring Student Attendance. An effective Student Attendance Management System (SAMS) can deliver enormous benefits to a University and all of its stakeholders.
It is available now and the benefits can be delivered very quickly when a good Student Attendance Management System (SAMS) is implemented.
An effective Student Attendance Management System can deliver 3 key benefits for educational institutions:
1. Lower administrative costs
2. Increased revenues through improved student retention
3. Tier 4 Licence compliance
Most manual systems involve the taking of registers, transferring data into spreadsheets before collating, further data transfer and then data analysis, before being able to identify potential issues. This all takes up an enormous amount of staff time, in academic and administrative departments, so the operational costs are frightening and present a major opportunity for efficiency improvement.
The time this process takes often means that it is too late to take any meaningful action by the time any issues have been highlighted.
Repeatedly keying in attendance data onto spreadsheets invariably brings in unintentional errors, so as well as being late and costly, the resulting information is often unreliable. This is massively demotivating for the staff involved as they know that the system they are doing their best with is not fit for purpose and costs far too much.
A good Attendance Management Policy supported by a good Student Attendance Management System can deliver the following benefits to Students and their institution:

Tier 4 Compliance
Improved Student Attendance and engagement
Improved communications with students and staff
Reductions in operational costs
Improved staff morale
Improved student attainment
Health & Safety, Duty of Care
Improved student retention
Improved revenues
Improved institutional reputation
Increased demand from new students
BQuSAMS (Student Attendance Management System) ensures that users can easily implement their Student Attendance Policy, helping to improve attendance and engagement, improving the student experience and compliance with Tier 4 licence obligations in an efficient and cost effective manner.
A good Student Attendance Management System (SAMS) will produce accurate data to evidence the engagement and progress made by their students and enables cost effective reporting to their stakeholders.
A further benefit is that the systems real time reporting enables staff to easily identify students whose attendance and engagement is below expectation immediately. They can then make effective intervention to work with the student concerned and provide appropriate support and encouragement to get them back on track.
This has a profound positive affect on student retention, which greatly improves revenues with.
It also leads to improvements in the numbers of students completing and attaining their qualification, which enhances the reputation of the university.
The SAMS also enables colleges and universities to fulfil their requirements for Tier 4 licence compliance for tracking student's attendance and study engagement and to be able to quickly provide evidence if required. This can be an enormously time consuming, costly and inefficient process, which often fails to deliver the necessary information needed to comply.
BQuSAMS is one of the best and most cost effective biometric cloud-based solutions available to the UK University sector to help in maintaining their Tier 4 licence.
BQuSAMS are happy to discuss individual organisational needs and to match a system in both functionality and cost to our customer's needs.
Further details are available at http://www.bqutms.com/overview.html.