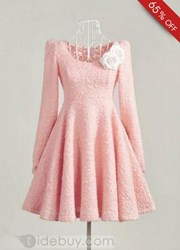 HK, China (PRWEB) November 18, 2013
Based in Hong Kong, Tidebuy International Limited represents an online selling company, providing clothing and apparel products for women. The current offer of discounts is made available on the official website through November 19th, 2013, and it is expected to be available for a limited period of time in which customers can benefit from the lowered prices.
Tidebuy.com offers a considerable variety of dresses, as sweater dresses, maxi dresses, day dresses, up to Cheongsam or mini dresses. Each category features products with a price range varying from $10 to $500. Although not all the offer consists of discounted items, the majority of the dresses available have been reduced in terms of price below 50%.
Tidebuy recommends Pretty Ol Style Long Sleeves dress as the top item on the dresses page list category. This specific item has been discounted by 65%, dropping from $55 to approximately $20. The next item on the list is the Artistic Split Joint dress, a product that is also a new arrival in the offer. This dress is listed at the moment for $11.99, with an original price of $25.
For the younger category of clients, Tidebuy listed products as Korean Style One dress; it features a combination of neutral colors along with an asymmetric design, and according to Tidebuy representatives, it is a primary choice for the teen category. Korean Style One dress comes at a discounted price of $12.99, with an original item value of $35.
On the same young note, the website made available Deluxe Long Sleeve Sweater. With 60% off from the original price and ten positive reviews, this clothing element is also listed as a recommended choice by Tidebuy.com. It comes in cheap, at $14.69, and can be delivered internationally, as well as any of the products listed on the website.
Products listed under categories on the tidebuy.com website can be filtered or arranged according to the price value, new additions, discounts or best selling. Client gets to choose the size of the clothing product she needs before finalizing the buying process
Tidebuy International Limited is a international e-commerce, fashion oriented selling company, boasting around 10 million products from the company's owned factories. Tidebuy is opened for buyers around the world, totaling 200 countries within the area of sales.