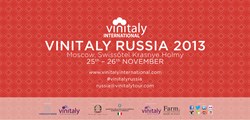 In a complex market, as is the Russian wine market, it is extremely important to stick together and work as a team.
Verona, Italy (PRWEB) November 15, 2013
Following the success of Vinitaly Hong Kong, Vinitaly International, the ambassador of Italian wine, is ready to celebrate the tenth year of Vinitaly Russia at the Swiss Krasnye Holmy Hotel in Moscow with an engaging two-day showcase full of wine tasting sessions and a rich educational program: challenged by constantly morphing government regulations and a stifling bureaucracy, Vinitaly International has teamed up with Italian wine producers and top Russian importers in the name of education and organized 11 Master Classes, more than three times as many as last year, aimed at increasing Italian wine knowledge among key players of the Russian wine market.
In spite of a brief downturn in 2008, due to the global economic crisis, the International Wine and Spirit Research (Wine-researcher, 23 January 2013 - http://tinyurl.com/n7ekvzj) predicts that Russia will consume more than 115 million nine-liter cases within the next three years becoming the world's seventh-largest wine market by volume. Amongst top importing countries, Italy still maintains second place after France for bottled wine and first place for sparkling wine with, respectively, more than 44 thousand and 17 thousand liters sold in 2012 (UIV, August 2013, http://tinyurl.com/kqpdbmf).
However, the recent ban on alcohol advertising in Russia, combined with a stifling bureaucracy, have provided a challenge by limiting wine knowledge and making it more difficult for foreign winemakers to communicate with the public and promote their labels.
Vinitaly International this year, has made it its mission to oppose these difficulties by tripling the number of Master Classes on the occasion of its annual Showcase in Moscow on the 25th and 26th of November: 11 Master Classes to be held in two of the Swisshotel's exclusive meeting rooms by famous names in the world of Russian and Italian wine. Marilisa Allegrini, Igor Serdyuk and Casimiro Maule amongst many others, will be offering Russian members of trade and media a new insight into the great variety and complexity of some of the most famous Italian wines: from the sparkling whites of Villa Almè and Allegrini's famous red wines to the ever present Sfursat 5 Stelle of Nino Negri and the wonderful white wines from the Alto Adige Region.
This year's edition of Vinitaly Russia also features its annual appointment with two afternoon Wine Tasting Sessions counting 45 exhibitors and near to 90 tables of top Italian wines.
"As incomes grow following the economic recession, consumers are willing to spend more for quality attracted by the romance that lies behind all that is Italian," explains Stevie Kim, Managing Director of Vinitaly International. "Price and perceived image remain, though, two driving forces behind attitudes toward alcohol brands, this is why education and communication are of such great importance. In a complex market, as is the Russian wine market, it is extremely important to stick together and work as a team."