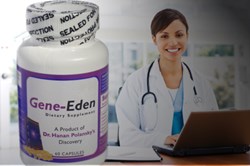 Up to 60% of the American population is infected with HSV-1. All of them risk a reduction in their ability to think clearly with age. – Mike Evans, polyDNA
Rochester, NY (PRWEB) November 17, 2013
Herpes Simplex 1 (HSV-1), the virus that normally causes cold sores and fever blisters, can also kill brain cells. This can reduce a person's ability to think clearly and accurately. In fact, researchers from the University of Pittsburgh, School of Medicine wrote that "Because it can cause lifelong infection in the CNS (central nervous system), HSV-1 infection is a plausible risk factor for cognitive impairment (1)." In addition, "Reduced (cognitive) function … was associated with HSV-1 exposure (1)."
In other words, the longer a person is infected with HSV-1, the greater the risk of brain damage and diminished thought processes. In fact, this study confirms earlier research, which showed that "earlier cross-sectional studies … indicate HSV-1 associated changes (are) predominantly in attention and working memory (1)."
There are some factors that increase the risk of brain damage due to the HSV-1 virus. These include the age, genetic background, and other disorders (such as Bi-Polar Disorder), etc.
"Up to 60% of the American population is infected with HSV-1 (2). All of them risk a reduction in their ability to think clearly with age. We recommend Gene-Eden-VIR, a natural remedy proven to reduce symptoms associated with HSV-1 infection." – Mike Evans, polyDNA
A study published on August 12, 2013 in the peer reviewed, medical journal Pharmacology & Pharmacy, in a special edition on Advances in Antiviral Drugs, showed that Gene-Eden-VIR reduced herpes symptoms. Study authors wrote that, "Individuals infected with the herpes virus…reported a safe decrease in their symptoms following treatment with Gene-Eden-VIR (3)." The study authors also wrote that, "We observed a statistically significant decrease in the severity, duration, and frequency of symptoms (3)."
To learn more about Gene-Eden-VIR, and the herpes virus visit http://gene-eden-kill-virus.com/Herpes-Remedy.php. All orders of Gene-Eden-VIR are completely confidential, and no information is shared or sold to any third party. Privacy is assured.
References:
(1) http://www.ncbi.nlm.nih.gov/pubmed/23920011
(2) Trends in Herpes Simplex Virus Type 1 and Type 2 Seroprevalence in the United States, August 23, 2006
http://www.ncbi.nlm.nih.gov/pubmed/16926356
(3) http://gene-eden-kill-virus.com/PP_Gene-Eden-VIR-is-Antiviral.pdf
polyDNA is a biotechnology company that develops dietary supplements using the unique scientific method developed by Dr. Hanan Polansky, which is based on Computer Intuition.
In addition to his unique scientific method, Dr. Polansky published the highly acclaimed scientific discovery, called Microcompetition with Foreign DNA. The discovery explains how foreign DNA fragments, and specifically, DNA of latent viruses, cause most major diseases.
polyDNA developed Gene-Eden-VIR, an antiviral natural remedy that helps the immune system kill latent viruses.