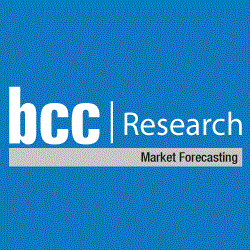 Wellesley, Mass (PRWEB) November 15, 2013
In 2005, the launch of next-generation sequencing technologies radically changed the structure of the biotechnology industry. Since then, the costs of sequencing have rapidly reduced to the point where it is now feasible for complex NGS tests to be priced in the range of other multiplex genetic tests and pave the way for new opportunities in clinical applications.
BCC Research (http://www.bccresearch.com) in its technical market research report, Next Generation Sequencing: Emerging Clinical Applications and Global Markets (BIO126A) states the NGS clinical market as still relatively young and emerging, with great commercial promise. According to the report, the rapid decline in sequencing costs will enable NGS informatics (i.e., the handling and interpretation of massive amounts of genetic data) to emerge as a key focus area for clinical applications in the foreseeable future. BCC Research projects the market to reach nearly $7.6 billion by 2018, and register a five-year compound annual growth rate (CAGR) of 71.6% for the period 2013 to 2018, making it the top biotech sector with the highest CAGR across the global biotechnology market.
In addition to the NGS technologies market, BCC Research anticipates biochip-based products, use of lab-on-a-chip format in point of care applications, and the central nervous system biomarkers market to impact everything from drug development to diagnostics. A shift in focus from R&D-related tools to clinical applications that are accurate, easy to use, low cost, and suitable for automation is expected to drive tremendous growth in these markets over the next five years.
Technical market research reports from BCC Research provide invaluable insights on how today's evolving markets are changing core business models in the biotechnology industry. They provide an overview of the global biotechnology market as well as analyses of five-year market trends with data from 2012, estimates for 2013, and CAGR projections for the period 2013 to 2018. These in-depth studies also offer evaluations of industry trends and clinical applications for NGS technologies; impact assessment of industry standards and governmental regulations on global markets; as well as comprehensive profiles of the top industry players and relative market shares for the leading companies.
Top Biotechnology Sectors
BIO049E - Global Biochip Markets: Microarrays and Lab-on-a-Chip
With the discovery of new, clinically relevant genomic and proteomic content, biochips are poised to meet the need for new-generation diagnostics that can measure multiple biomarkers in single assay. According to BCC Research, the global biochip products market will reach $14.4 billion in 2018, and register a CAGR of 30% for the period 2013 to 2018.
BIO074B - Central Nervous System (CNS) Biomarkers: Technologies and Global Markets
The central nervous system biomarkers market is an increasingly significant part of the overall biotechnology product market worldwide. CNS biomarkers are critical tools for understanding disease mechanism, developing more effective treatments, and improving the quality of patient care.
BCC Research expects the market to grow to $5.1 billion by 2017, and register a five-year CAGR of 20.7% from 2012 to 2017.
BIO099A - Single-Use Technologies for Biopharmaceuticals: Global Markets
Eliminating the risk of contamination is the greatest challenge faced by manufacturers of biopharmaceuticals, and currently this requires high-level monitoring of critical manufacturing processes. Single-use technology aids biopharmaceutical manufacturers in overcoming this challenge by reducing or eliminating the need for sterilization between batches, thereby improving operational efficiency. BCC Research projects this market to reach nearly $2.4 billion in 2017 after increasing at a five-year CAGR of 19.1%.
BIO051B - Bioinformatics: Technologies and Global Markets
Since the Human Genome Project was completed in April 2003, genome-wide association studies have contributed toward a greater understanding of the genetic basis of complex diseases and advances in high-throughput technologies. More recently, improvements in cloud computing capabilities and advances in data-analysis software services have helped to expand the evaluation of available datasets, allowing researchers to build systems biology models of various diseases. BCC Research projects this market to reach nearly $7.5 billion in 2017 after increasing at a five-year CAGR of 18.7% from 2012 to 2017.
BIO089B - Sample Preparation in Genomics, Proteomics and Epigenomics: Global Markets
Reagents companies have started to recognize the commercial potential in providing the required reagents, kits, and assays that help in facilitating scientific work by reducing time, labor, and even costs. BCC Research projects the market to grow to $11.5 billion by 2018, and register a five-year CAGR of 16.3% from 2013 to 2018.