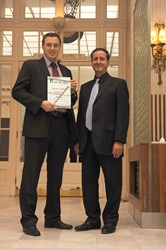 We are thrilled that First Capital Connect has won this prestigious award for the fantastic work it does supporting the communities in which it operates. - Carrie Herbert
(PRWEB UK) 15 November 2013
First Capital Connect (FCC) has won the Giving to the Community category at the 2013 Peer Awards for Excellence due to its network wide community engagement programme.
Paul Oxley, FCC's Stakeholder and Community Engagement Manager, collected the award on behalf of the company. The Peer Awards for Excellence recognises business best practice around supporting communities, the environment, and to nurturing customers and employees to enhance their performance.
The judges praised FCC for its dedication to improving lives and the communities it serves through assisting local charities, local employment schemes, and community station improvement schemes. Particular praise was given for FCC's partnership with Cambridge-based anti-child bullying organisation Red Balloon.
FCC has been supporting Red Balloon for the past few years and took that relationship further in June 2012 when they launched an anti-child bullying poster campaign across its network. Red Balloon's founder and Chief Executive, Carrie Herbert, has assisted FCC by training its ticket inspectors on how to recognise and handle acts of child bullying on the network.
Speaking after the awards ceremony, FCC's Managing Director, David Statham, said:
"With this being our first year to enter the Peer Awards we were extremely proud to have won the Giving to the Community category. Our community engagement programme is going from strength to strength. We have just signed a community rail partnership in South Cambridgeshire and our team is busy planning for Christmas activities across the network.
"I would like to send our special thanks to Carrie Herbert for being a fantastic community partner. Her work at Red Balloon is inspirational and we are very proud to support such a worthy cause."
Carrie Herbert, Chief Executive of Red Balloon, commented:
"We are thrilled that First Capital Connect has won this prestigious award for the fantastic work it does supporting the communities in which it operates. Through our partnership with First Capital Connect we have been able to raise awareness of the plight of severely bullied children and in return share our expertise on how to deal with any acts of child bullying on their network. This is an extremely well deserved accolade and we should like to congratulate First Capital Connect on their success."
ENDS