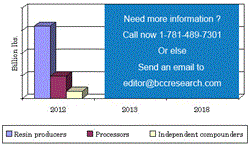 Wellesley, MA (PRWEB) November 18, 2013
According to a new technical market research report, The Plastics Compounding Market from BCC Research (http://www.bccresearch.com), the North American market for compounded thermoplastic resins reached 89.82 billion lbs in 2012 and is expected to grow to 90.92 billion lbs in 2013. BCC Research projects the market to grow to nearly 102.36 billion lbs by 2018, and register a five-year compound annual growth rate of 2.4% from 2013 to 2018.
Plastic compounding of raw resins is an essential and critical step in the commercial production of plastic products for automotive, consumer electronics, and appliance industries. Compounding contributes to the plastic manufacturing process by upgrading the quality and performance of resins, improving the efficiency of the compounding process, and developing entirely new plastic substances. Key report findings indicate, compounding by processors to grow faster than producers or independent compounders; calcium carbonate to remain the dominant thermoplastics filler with about 70% of the filler market by volume; and carbon fiber reinforcement demand to continue growing at double-digit rates, led by industrial (including automotive) applications.
Companies in this industry are usually grouped either as resin producers, plastics processors, and independent compounders. The production of compounded plastics is a highly competitive business based on many factors, including speed, delivery, service, performance, product innovation, product recognition, quality, and price. Research and development spending, growing consumer spending resulting from an improving economy, and rising demand for the development of environmentally safe resins will drive growth in this market over the next five years.
The high-volume commodity resins covered in this study include high-density polyethylene, low-density polyethylene, linear low-density polyethylene, polypropylene, polystyrene, polyvinyl chloride, and thermoplastic polyesters (primarily PET). It also covers engineering thermoplastics, including PBT, nylons (polyamides), polycarbonates, ABS, and some specialties such as polyacetals and polysulfones.
BCC Research segments the plastics compounding market by each of the above resins and by each of the three plastics compounding groups. Applications and markets by volume in pounds are estimated for the years 2012, 2013 and 2018. The report identifies major resin producers, key plastics processors and independent compounders and also discusses their activities, product lines, and other related information.
This report will be of interest to marketing and management personnel in companies which produce and sell plastic compounding materials and companies that supply, or want to supply, equipment and services to plastic compounding materials and equipment supply companies. It will also benefit financial institutions that supply money for such facilities and systems, including banks, merchant bankers, venture capitalists, and others. Finally, as local, state, and federal officials are all involved in writing and enforcing standards to ensure and protect public health and safety and the environment, personnel in government and standards-writing organizations will find this report to be a valuable resource.