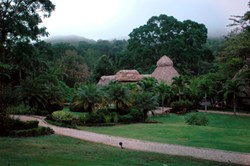 "It's of course a great honour to be chosen among the top ten solo destinations in the world from someone as respected and authoritative as Fodors."
San Ignacio, Belize (PRWEB) November 17, 2013
Fodors, the world's largest publisher of English language travel and tourism information, has picked The Lodge at Chaa Creek as one of the world's top 10 destinations for the solo traveller in a November 13 2013 feature, according to Chaa Creek marketing administrator Roberto Harrison.
"It's of course a great honour to be chosen among the top ten solo destinations in the world from someone as respected and authoritative as Fodors," Mr Harrison said, "And while Chaa Creek caters to travellers ranging from families, couples, groups and really everyone, it was great to be singled out as a perfect destination for singles as well," he said.
The feature travel article, "10 Best Solo Escapes this Winter", listed destinations from Kauai, Hawaii, Valle d'Aosta, Italy, New Zealand to Belize. In describing Belize, the article singles out Chaa Creek:
"Head to Belize to escape winter and reconnect with nature. Stay in a thatched roof cottage or treetop suite on a 365-acre nature reserve at Chaa Creek, Located on the banks of the Macal River in the foothills of the Maya Mountains, you'll wake to the sounds of the rainforest.'
Mr Harrison said, "You'll wake and go to sleep to the sounds of the rainforest, and if you wish, there are miles of well-maintained trails throughout the property, some of which connect to the 70 Maya archaeological sites researchers have helped us record on the property, including an interesting ancient temple. Guests have their choice of guided and self-guided tours, including the fascinating "Creatures of the Night" excursion, which opens up a part of jungle life people seldom get to see."
The Fodors pictorial article begins with the observation that;
"Travelling alone has its own set of requirements. Whether you are travelling to an isolated location to quiet your soul or plan to join in outdoor activities with others, the key to a successful solo vacation is knowing what you want to experience and finding the spot that comfortably meets those needs."
Mr Harrison said, "Again, this is a perfectly apt description of the flexibility that we offer at Chaa Creek. We recognise that some people do want to go it alone and, for example, spend some meditative time atop an ancient Maya structure, while some people enjoy the tour experience with our licensed, naturalist guides. The same goes for birding, where people are content to set out with a book and pair of binoculars, while others wish to take advantage of our birding specialists.
"The point is that once you decide how you wish to spend your quality time, we can provide a range of options to do so, whether it's a time for self-reflection, canoeing, horseback riding, meeting new people or just getting away from it all, there is something here for any pursuit.
"The fact that an internationally recognised and respected source such as Fodors recognises Chaa Creek as one of the world's top ten destinations for doing so of course gives us great pleasure and, we hope, opens up a new world of possibilities for many of its readers," Mr Harrison said.
"And with our affordable all-inclusive Belize vacation packages, people will be surprised at how little it can cost to have a complete rainforest experience," he added.
The Lodge at Chaa Creek is an award winning eco resort set within a 365 acre private nature reserve in Belize.