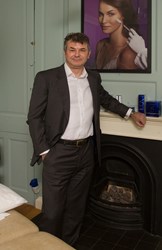 Modern aesthetic medicine gives us a number of unique tools with which we can treat some of the most notoriously difficult conditions.
Northampton (PRWEB UK) 18 November 2013
The Mulberry House Clinic & Laser Centre based in Hardingstone, Northamptonshire is well known for its extensive range of cosmetic and anti-ageing treatments. Indeed, with 10 years in the industry, they have built up a loyal following of loyal patients who visit the team for regular skin treatments to hold back the signs of age.
However, that's just one part of the story.
Many more patients visit Mulberry House Clinic for troublesome skin conditions. Some are referred by their doctor, others hear about the clinic on recommendation or find it after local research.
Skin problems such as acne, rosacea, psoriasis or eczema affect millions of adults and can cause embarrassment, distress and discomfort.
Patients visiting a GP for such conditions are usually prescribed topical creams or medications to control and treat the symptoms, calming inflammations to avoid infection. However, medicated creams often don't get to the root of the problem and can have unpleasant side effects. For example, over-use of steroid creams for eczema can cause the skin to thin, while acne medication has been linked to depression.
Little wonder that so many people look to the private sector for skin treatments that work to improve the condition.
Experienced skin treatments physician, Dr John Tanqueray MB BCh MRCGP DCH DRCOG DipOccMed BCAM, explains:
"We see a great many patients who struggle with long term skin conditions and are looking for a new way in which to treat them."
"As a GP myself, I can fully understand the patient's medical history and how the condition has responded to any treatments tried previously, as well as looking for underlying issues and ensuring that our treatments work with anything the patient is already doing."
"The good news is that modern aesthetic medicine gives us a number of unique tools with which we can treat some of the most notoriously difficult conditions. Our new LED, for example, is showing tremendous results for eczema, psoriasis, acne, rosacea, pigmentation and dermatitis. The machine uses the power of pure light at selected safe wavelengths. This stimulates the skin's own natural healing mechanisms and cell renewal, building collagen and improving circulation so that the skin is fundamentally a lot healthier. The results are clear to see – calmer, less sensitive and clearer skin appear quite quickly."
While it is a powerful option, LED is not a 'one size fits all' treatment. The clinic also offer a range of other treatments designed to improve the condition of the skin which can deliver significant results for difficult skin conditions. Chemical peels and microdermabrasion offer intensive exfoliation which removes dead skin cells and improves the skin's radiance – both can be very helpful with acne.
Dermaroller micro-needling can be used to stimulate collagen production and can be useful for many skin conditions.
Mulberry House Clinic & Laser Centre also offer the latest PRP – platelet rich plasma – treatment. This is an advanced treatment which was originally developed for plastic surgeons treating burns victims. However, the powerful skin healing effects are highly adaptable and useful for a wide range of conditions. For example, as well as anti-ageing, PRP can significantly improve scarring and acne scarring, which are notoriously resistant to treatment.
Dr Tanqueray commented:
"At Mulberry House, we understand that every patient is unique with their own set of requirements. We aim to give the best advice by spending time in consultation with each patient to fully understand their concerns as well as their physiology. This is the first step to giving the most suitable advice on treatment."
"Then we are able to recommend from the very latest skin treatments, sometimes combining two or more approaches for the best results. No other clinic in the region has the same array of skin treatment technology at their disposal; but this investment means that we are able to be unbiased in our advice and give the patient the best possible results."
With a 14 year career in cosmetic treatments, Dr John Tanqueray works at the forefront of the industry and founded his own skin treatment clinic, Mulberry House Clinic & Laser Centre based in Hardingstone, Northamptonshire.
The clinic provides a staggering range of professional skin treatments, with injectable anti-ageing injections and facial fillers administered by clinic founder and owner, Dr John Tanqueray.
In addition, the Company has invested heavily in the latest skin care technology, to ensure that their patients have access to a wide choice of treatments for optimum results. The clinic offers laser skin rejuvenation as well as LED skin therapy (light emitting diode), radiofrequency, PRP (platelet rich plasma) and plasma energy skin regeneration treatment for advanced skin therapies. Popular laser hair removal is also available.
The company remains independent and doctor-managed with its patients' best interests placed firmly at the heart of the business.