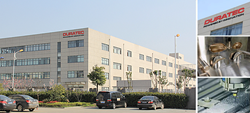 (PRWEB) November 16, 2013
Today, DuratecPlastics.com, the distinguished Chinese plastic injection molding supplier, has announced its new range of plastic parts. For a special offer, these new products are now offered at low rates, up to 30% off. The promotional prices are available to all old and new customers who place an order before the end of December.
A prestigious company in the industry, DuratecPlastics.com strives to make more practical products for customers from every part of the world. In the recent years, the needs and requirements of plastic parts are increasing quickly. To respond to the reality, the company is working hard to create high quality plastic parts for the market. Its professional design team works day and night, in the hope of facilitating worldwide customers in an efficient way.
The new collection includes many related items such as injection plastics, plastic gears, safety plastic parts and so on. Featuring nice shapes, they are made from the best materials and have delicate craftsmanship. In addition, all of them are in stock and ready to ship, so that customers do not have to wait too long.
The plastic parts from DuratecPlastics.com can be applied in several major industries: electronics, machinery, hardware, medical instrument, toys, consumer goods and many more. They are quite popular in the international market.
About DuratecPlastics.com
DuratecPlastics.com specializes in plastic injection molding and plastic product assembly. The business aims to provide customers with high quality products at the lowest possible prices. The company owns a modern manufacturing and warehousing facility as large as over 12,000 square meters.
For more information, please visit http://www.duratecplastics.com/.