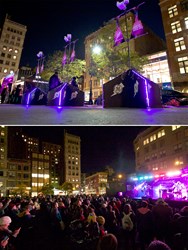 Woodland Hills, California (PRWEB) November 15, 2013
As part of the GE Brilliant Machines campaign, GE's robot band "Compressorhead" performed live this week in Union Square, NYC. Thousands of people in Union Square and around the world rocked out together thanks to ChirpVision's social activation strategy. This technique infuses tangible and digital marketing which resulted in triggering thousands of people to rock with #BrilliantMachines live via YouTube.
ChirpVision developed a social mobile microsite to complement the marketing campaign created by BBDO. ChirpVision also filmed and produced the live broadcast stream of the concert. ChirpVision displayed new technology by developing an online social portal linking fans in real time to the concert via YouTube's Live Stream. This portal was used to spawn a social connection to the outside world from the physical crowd in Union Square via Twitter and Facebook.
ChirpVision also demonstrated rapid Wi-Fi deployment using 4 DART's (Deployed Access Radio Tower). The DART's have towering masts that delivered Wi-Fi and real time event broadcast to the audiences smart phones. Each DART base is equipped with 24 cell phone chargers that allow fans to juice up their phones without skipping a beat. The DART base station also emitted a kaleidoscope of LED colors during the show while displaying 2'x4' banners and brand identity logos promoting GE's band awareness and event messaging.
ChirpVision's live crowd sourced social stream encouraged fans to post their comments and photos of the event via facebook and twitter tagged with #BrilliantMachines, this social content was then curated, moderated and displayed on the large monitors flanking the stage. ChirpVision's real time WiFi analytics tracking was utilized to provide ad agencies user participation feedback.
About Chirpvision
ChirpVision is an interactive system for mobile entertainment, reaching fans with live streaming video and social connection at events. Technologies for fault tolerant video streaming and developed by Chirp enable efficient streaming to mobiles over wifi in dense crowds at lower cost and complexity. ChirpVision is a registered trademark of Chirp, Inc. All Rights Reserved.
Chirp, Inc.
21900 Burbank Blvd., Ste 200
Woodland Hills, CA 91367
1-855-55-CHIRP