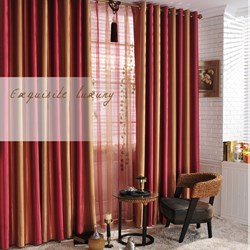 (PRWEB) November 15, 2013
Buying curtains online can save customers time and money. Ogotobuy.com, a well-known curtain supplier from China, has recently launched its new collection of blackout curtains, and announced all its curtains are offered now at discounted prices, up to 69% off.
The curtains from Ogotobuy.com come with over 500 different styles; the curtain quality has been improved by the advanced technology brought in by Ogotobuy.com in October 2013. According to the CEO of the company, the promotion is specially designed for the current holiday season: Thanksgiving, Black Friday, Cyber Monday, Christmas, etc.
The CEO introduces, "We work hard to make sure that customers can buy high quality discounted curtains. Now, all our curtains are offered at low prices. Our curtains are made from high-quality materials and go through strict quality checks before shipment. All of them are priced around $100. Please spend a few minutes to visit our website, and you will find something suitable for you. Moreover, we provide discounted shipping costs for our customers."
He continues, "We just need to know the size and color you need. Then, everything becomes easy. We have sorted our cheap curtains into various sections, making it simple for you to look through our wide selection of window coverings and click on your choices.
About Ogotobuy.com
Ogotobuy.com is a professional manufacturer and retailer of household products. People can find various cheap curtains, comforters, pillows, sheets, and bath towels at its online store. The company assures that all its goods are designed, tailored, and made by its experienced team. The company aims to supply high quality products at affordable prices to its customers worldwide. More details at http://www.ogotobuy.com/