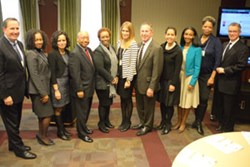 'This summit was a great opportunity to collaborate across sectors and I look forward to building the elements of a local living economy with the Working Group,' said Deputy Mayor Vivian Brady-Phillips.
Jersey City, NJ (PRWEB) November 15, 2013
This past Wednesday, more than 80 national and local leaders attended the "Growing Our Local Living Economies Summit" at the Hudson County Community College Culinary Conference Center in Jersey City. Featured speakers included Mike Pearson president and CEO of Union Packaging, Don Shaffer president and CEO of RSF Social Finance, and Judy Wicks author and co-founder of Business Alliance for Local Living Economies.
During the event, Mayor Steve Fulop along with former Governor Jim McGreevy, executive director of Jersey City Employment and Training Commission, announced the key points for the administration's local economy agenda including the formation of a Local Economy Working Group. The Working Group will collaborate to evaluate local resources and produce ways to stimulate economic growth and tackle job creation by maximizing existing resources.
Joining Commissioner McGreevy in the inaugural Working Group are:
Vivian Brady-Phillips, deputy mayor, City of Jersey City
Michael Caslin, managing director of strategy and development, Rising Tide Capital
Ana Chapman, executive director, Center for Business and Industry at Hudson County Culinary College
Stevie Clifton, co-founder and chief technology officer, Animoto.com
Eugene Cornacchia, president, Saint Peter's University
Alfa Demmellash, CEO, Rising Tide Capital
Shawn Escoffery, director, Strong Local Economies Program, Surdna Foundation
Sue Henderson, president, New Jersey City University
Elliott Lee, vice president, Northeast Region, JPMorgan Chase Global Philantrophy
Michele Massey, executive director, Jackson Hill Main Street Management Corporation
Maria Nieves, president and CEO, Hudson County Chamber of Commerce
Eric and Paul Silverman, principals, SILVERMAN
Darice Toon, director, Jersey City Division of Community Development
"This summit was a great opportunity to collaborate across sectors and I look forward to building the elements of a local living economy with the Working Group," said Deputy Mayor Vivian Brady-Phillips.
The summit—organized by Ana Chapman, Alfa Demmellash, Maria Nieves, and president of LeadNJ Mark Murphy—consisted of several presentations and panel discussions to ignite thoughts on harnessing entrepreneurial initiatives to create new opportunities through workforce development and small business cluster-based growth.
JPMorgan Chase was the lead sponsor of this event. "It is no accident that these leaders were assembled here today to share ideas and achieve a common outcome. Through their experience, the panelists revealed the positive correlation between equity and local living economies which is based on the notion of shared prosperity. The idea of moving from competitive to cooperative entrepreneurship further aligns with this thinking to achieve collective business success that creates a ripple effect throughout the entire community. Finally, we observed how integrated place based initiatives can move beyond complex business and municipal transactions to elevating the theory of collective impact and move beyond striving for survival, or success to significance," said Kim Jasmin Executive Director, Northeast Region Executive, Global Philanthropy and Community Relations of JPMorgan Chase & Co.
Another key feature of the summit was the announcement of the Institute for Urban Revitalization through Entrepreneurship by the President of Saint Peter's University, Eugene Cornacchia. The Institute will be the home of the Local Economy Working Group, and going forward, will present the summit annually.
The event launched Rising Tide Capital's local celebration of Global Entrepreneurship Week, which will continue next Monday at the Start Something Challenge Grand Finale.
"I am thrilled that leaders of anchor institutions and key industry sectors came together to have this important conversation about building a local living economy in New Jersey's second largest city in. I anticipate this summit will influence more cities to consider holistic strategies that map out more sustainable growth opportunities for urban entrepreneurs and future job creators. I look forward to working together with our partners, to execute the ideas from the summit," said Alfa Demmellash CEO and Co-Founder of Rising Tide Capital.
About Rising Tide Capital
Rising Tide Capital (RTC) is a Jersey City-based nonprofit organization founded in 2004 by Harvard graduates Alex Forrester and Alfa Demmellash. RTC helps entrepreneurs start and grow successful businesses by providing a 12-week Community Business Academy—supplemented by year-around workshops, coaching and networking events. These programs are currently offered in Spanish and in English in four cities across Northern New Jersey: Jersey City, Newark, Union City, and Orange Township. 728 entrepreneurs have graduated from the CBA to date, and together, they operate over 350 businesses in New Jersey. RTC's model of entrepreneurship development has received national recognition from President Obama to CNN Heroes. To learn more, visit http://www.RisingTideCapital.org.