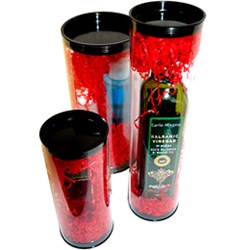 Ideal for the traditional or online retailer who wants to package their product for the Christmas gift market
(PRWEB UK) 17 November 2013
Packaging available off the shelf usually brings to mind some of the most unglamorous of products, as Barney Byfield, Managing Director at one of the UK's leading packaging suppliers, is the first to admit.
"Our biggest sellers are things like cardboard boxes, polythene bags, bubble wrap and packing tape – all immensely useful, but not the sort of things you'd use to make your Christmas presents look more enticing under the tree. Neither would they add to the growing sense of excitement as you remove brightly coloured wrapping paper!"
Nevertheless, with Christmas just around the corner, Davpack is showcasing a range of boxes and packaging designed to make some of the finer things in life look even finer.
Ideal for the traditional or online retailer who wants to package their product for the Christmas gift market, Davpack's selection is a combination of attractive coloured gift boxes with lids, delicate and beautifully coloured tissue paper – in large sheets for wrapping or shredded for filling a box - and clear gift boxes ideal for packaging special presents like chocolates, confectionery, jewellery and cosmetics.
"Many of our customers are retailers on the high street or selling gift and craft items online, and our range of seasonal gift boxes and packaging are ideal for presenting those products in their best possible light," added Barney Byfield. "Most of the range is available straight from stock and there are also some very special offers at the moment, quite apart from our standard quantity discounts."
You can find Davpack's range of gift packaging in the Retail Packaging section of their website (click here to go straight there) or at the back of their latest catalogue. To receive a copy of the catalogue, call Davpack on 01332 821200 today.