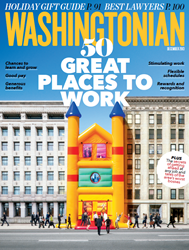 The recognition by The Washingtonian is a reflection of our corporate culture, core values and daily mission: commitment, community and collaboration.
Washington, DC (PRWEB) November 21, 2013
Higher Logic, the leading provider of private social networking software for member-based organizations, has been named one of the 50 "Great Places to Work" in the Washington, DC area by The Washingtonian magazine. The honorees were reviewed by a panel of editors who appraised more than 200 companies and over 13,000 employee surveys. The final award determinations relied heavily on the scores given by a company's employees.
"It's an honor to earn this distinction in Washington, DC," said Rob Wenger, Chief Executive Officer at Higher Logic. "The recognition by The Washingtonian is a reflection of our corporate culture, core values and daily mission: commitment, community and collaboration. We're proud to be acknowledged for creating a positive work environment for our team and for ensuring that employee morale is a key part of our overall mission."
This is the eighth occasion that The Washingtonian has selected Great Places to Work in Washington, DC, a feature that began in 1999 and is published every other year. The top 50 companies are awarded based on several measures, including pay and benefits, challenging and interesting work, work/life balance, opportunities to learn and grow, financial stability, commitment to charity and community and the recognition and respect given to employees. Companies and organizations from a variety of industries and sizes were among the finalists. Profiles of the winning workplaces can be found in the December 2013 issue of The Washingtonian.
"At its core, Higher Logic is about doing good things for people, organizations and the communities they serve," said Andy Steggles, President and Chief Customer Officer at Higher Logic. "Based on the fact that the employee surveys are a large portion of what ultimately lands you on the list, it is one of the highest compliments that we as a company can receive. We encourage a work culture where innovation is the goal, hard work is expected, and creativity is rewarded."
Higher Logic employees are encouraged to explore new boundaries and bring new ideas to the company and product development. They are dedicated to making a difference, not just in the workplace, but also in their local communities. Amenities available to Higher Logic employees in Washington, DC include:

100% paid healthcare including short-term/long-term disability.
Options to telecommute and use flex-scheduling.
Monthly allowance for Internet and mobile.
A treadmill desk that allows employees to work while walking and reinforces the Higher Logic Wellness Program, which encourages fit and healthy lifestyles.
Access to the Higher Logic Energy Buffet, which features a variety of healthy snack options at no charge.
Opportunities for paid professional development and continued education funding.
Participating in monthly volunteer activities as part of the Higher Logic CARES program.
Quarterly happy hours in unique places all over the Washington, DC area.
Since its founding in 2007, Higher Logic has been commended for winning numerous industry and regional awards – including ranking #18 among the Top 100 Washington, D.C. Companies in the 2013 Inc. 500|5000.
Learn more about joining the Higher Logic team and browse open positions.
About Higher Logic
Higher Logic provides innovative professional social media and mobile applications for organizations worldwide that are seeking to create conversation, share knowledge and build community. Our premier offering, Connected Community™, which is currently used by more than 100,000 online communities with over 17 million engaged users, empowers organizations to share best practices and collaborate—anytime, anywhere.