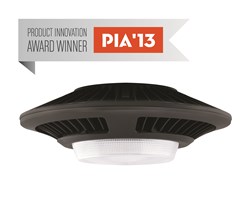 We are truly honored to have our GLED garage light considered best-in-class by our peers in the architectural lighting industry.
Northvale, NJ (PRWEB) November 15, 2013
RAB Lighting's GLED LED garage light wins the prestigious 2013 Architectural Products Innovation Award. This nationally recognized award honors innovation in various areas of building-related products such as lighting. Fifty industry professionals made up of independent architects, interior designers, lighting designers and veteran A/E/C writers were included in the judging and reviewing of products. The GLED LED was chosen out of hundreds of other product entries in the lighting category.
"Building on the success of last year's inaugural program, our second edition of the awards proves commercial building manufacturers are committed to, and are working arduously toward, delivering more sustainable products, as well as products that deliver better performance, life and affordability," says Jim Crockett, Editorial Director – Architectural Products Magazine
This high performing, low-profile and efficient garage LED fixture stood out amongst the competition with its higher light output, which maximizes spacing criterion and enables up to a 25% reduction in fixture count versus other common alternatives on the market. As a 250 Watt HID equivalent fixture, the GLED 78 Watt delivers 70% more efficiency over traditional garage lights, which translates into huge savings on energy costs. With a 100,000-hour LED lifespan, RAB LEDs remain bright and effective for over 13 years based on 24/7 usage typical in most parking garages, making the GLED virtually maintenance free.
As a DesignLights Consortium® certified product, this fixture qualifies for most major utility rebates, nationwide. Plus with its low-profile measuring just 5.5", the GLED is the ultimate garage light designed to avoid damaging encounters with SUV and roof racks. It is no wonder why the GLED garage light is a winner.
"We are truly honored to have our GLED garage light considered best-in-class by our peers in the architectural lighting industry," say Ross Barna, CEO of RAB Lighting. "The GLED lowers operating expenses by using less energy and provides long-life and maintenance free reliability that's critical to ensuring safety and security around the clock in parking garages."
RAB warrants the light output, color stability, driver performance and paint finish for 5-years on the GLED. Simple, comprehensive and valuable, the RAB LED Warranty provides bumper-to-bumper protection without confusing legal language or small print.
About RAB Lighting:
RAB Lighting is a leading manufacturer of affordable, durable and energy-efficient LED lighting fixtures. Located in Northvale, New Jersey and founded in 1946, RAB offers well-designed, professional grade lighting through a broad network of electrical distributors. RAB also offers lighting design and engineering services, free of charge, to produce lighting layouts. For more information, call (888) RAB-1000 or visit http://www.rabweb.com.