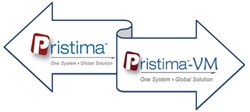 Pristima Suite is the most comprehensive platform for managing preclinical operations on a global scale.
Morris Plains, NJ (PRWEB) November 15, 2013
Xybion Corporation, the global leader in Integrated Compliance, Quality, Risk & Laboratory solutions for life sciences and highly regulated industries, today announced that the Animal Health Division of a Top Five Global Pharmaceutical company has chosen Xybion's Pristima® Suite using its Cloud delivery model to automate and manage its preclinical operations globally.
Xybion, a leading provider of software, services and consulting for global corporations operating in highly regulated industries, will host its Pristima® Suite and all of the general toxicology modules including Study Management, Animal Room, Colony, Clinical Pathology, Pharmacy, Necropsy, Pathology and Report generation modules using its SaaS delivery model from Xybion's US-based data center. This investment will consolidate several key application areas and harmonize four global sites in Europe, North America and Australia.
This global industry leader has been using traditional on-site software from multiple sources and this consolidation and integration automates all aspects of the data management and reporting process throughout the research laboratory. The use of SaaS model to significantly lower infrastructure and support costs while enabling more frequent upgrades for access to latest features and functions was a major factor in this decision.
A competitive evaluation was performed and Xybion was awarded an initial 3-year contract with deployment starting in 2013.
Pradip Banerjee, CEO at Xybion, stated that "Xybion is proud to have been selected in this competitive process and is committed to optimize the integration and harmonization of such a large global organization. We are encouraged that organizations such as this pharmaceutical leader are committed to a deployment strategy utilizing Xybion's Pristima® Suite in a cost effective SaaS platform."
About Xybion
Xybion is the leading provider of software, services and consulting for global corporations operating in highly regulated industries. Our unique solutions focus on regulatory compliance, GRC, quality management, GLP, integrated preclinical lab management, early-stage drug discovery, content migration and systems validation. Xybion specializes in helping companies improve their overall compliance processes and provides a complete view into organizational risk across global organizational models.
Xybion's combination of software, business process management, services, validation and staffing enables us to cover a broad spectrum of critical business needs for companies and we deliver our solutions on global scale. Since its founding in 1977, Xybion Corporation has supported, through software, services and consulting, 100% of the top 20 global life sciences companies. Our leadership in this dynamic and ever-changing industry has been a cornerstone of our high-value reputation.