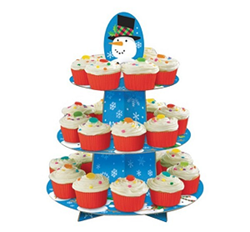 With less than 35 days until Christmas, the new festive ranges are aimed at a growing trend for Christmas themed parties being held in the lead up to and on Christmas day itself, and are proving a real hit with customers.
(PRWEB UK) 18 November 2013
Parents' splashing out on their kids, whether for parties or presents, is becoming an increasingly serious business. Recent studies have suggested that spending on children is on the rise. A study by the Co-op found that the average amount parents are spending on kids this Christmas will increase 10% from last year. And, with birthdays (including presents and parties) costing parents around £200 per year, throwing a spectacular party is becoming more of a priority for parents.
Whilst throwing a memorable party may initially appear to be a daunting task, Kids-Party Shop.co.uk would argue that parties need not be so intimidating. Established in 2005, the founders' business objective has always been to offer a wide range of traditional and on trend party supplies, whilst providing a personal touch through dedicated customer service and after-care support to ensure the preliminary party planning runs as smoothly as possible and is one less thing for busy parents to worry about.
Graham Brown, Commercial Director at Kids Party Shop offers some comments. "We've worked hard to build a business that offers a diverse range of all the leading brands of tableware, balloons, costumes, accessories, decorations and party bag toys all housed under one roof. The online store aims to offer the ultimate in convenience for busy mums and dads and people buying for parties. Being competitive on price is obviously important, but we find what keeps our customers coming back time and time again is our attention to detail; we pride ourselves on giving outstanding customer service and it counts for a lot."
With less than 35 days until Christmas, the new festive ranges are aimed at a growing trend for Christmas themed parties being held in the lead up to and on Christmas day itself, and are proving a real hit with customers. Kids Party Shop are offering a variety of yuletide themes including the popular Jolly Snowman range, featuring snowman cups, napkins, table covers and decorations starting from £1.25 for a pack of 4. The colourful and sentimental Night Before Christmas theme and Golden Christmas Tree partyware are proving not just popular for kids, but are being purchased for office Christmas parties and other adults events as well.
The Christmas Cupcake Stand is a proven best-seller year after year. At 14 inches high, the stand can hold 24 cupcakes and is priced at an incredibly reasonable £2.99. With programs like the Great British Bake-off inspiring millions of cooks to get creative across the UK, products like the inexpensive stand is a great way to show-off those wonderful cupcake creations over the Christmas period.
With large Christmas gatherings often meaning separate tables for the children, practical, and fun disposable tableware certainly helps create minimum fuss on a busy and hectic day in the kitchen. With jolly Christmas themed decorations combined with children's excitement on Christmas Day, often it's the kid's dinner table where the real fun is happening!
Another bonus for customers is the flexible delivery options Kids Party Shop have to offer. Next Day Delivery is available for £7.50, 2-3 day and 3-5 day deliveries are available at £4.99 and £3.99 respectively, while orders over £50 can be eligible for free delivery (restrictions apply).
With hundreds of different items in stock, and a huge variety of popular branded products from Disney, Spiderman, Justin Bieber and Angry Birds and exciting new brands like Sofia the First, Sky landers and Disney Planes in stock now, visitors to the online party store are able to personalise their child's party with ease. Alternatively, simply call Kids Party Shop on 01507 328110 to talk with a friendly member of staff.
Established in 2005, Kids Party Shop has built a one-stop shop for all things party. From a huge collection of birthday themes, to balloons, novel tableware, party toys and sweets, party games, invitations, costumes and special occasion events including Christmas, Halloween and much more, the sheer variety and choice, excellent customer service and inexpensive and flexible delivery options, including shipping to the US are just some of the reasons why parents keep coming back to Kids Party Shop year after year.