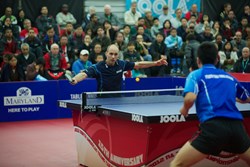 (PRWEB) November 18, 2013
Table tennis players from all around the world will be traveling to compete at the 2013 North American Teams Championships Powered By JOOLA, held at the the Gaylord National Resort in National Harbor, MD during Thanksgiving weekend. World class to amateur competitors, will be competing for $20,000 in prize money. Approximately 1,000 players teamed up in 215 teams will be competing on 144 JOOLA Table Tennis Tables making it the largest tournament in America!
This year marks the first time the event will be held in the Washington, D.C. Metro Area. The championships will start on Friday, November 29th, and culminates in the final Championships round on Sunday, December 1st. The finals are always exciting to watch. Some notable players participating are Ariel Hsing, a 2 time US National Champion and Olympian, Joerg Rosskopf, 5 time Olympian and former world champion, and Hao Shuai, a member of the Chinese national team. The event is open for public spectators, and passes are sold online at http://www.joolateams.com and at the door.
About North American Table Tennis
Founded in 1998, North American Table Tennis (NATT) is the only table tennis-focused event planning company in the United States. Initially, the company operated a handful of professional tournaments, which eventually came to be known as the North American Tour and the North American Teams Championships. However, for more than 10 years, NATT has also partnered with USA Table Tennis, the national governing body for table tennis in the US, to manage the rating system as well as operate the US Open and US National Championships. In recent years, NATT has spread its wings to include corporate and charity table tennis events as well.
About JOOLA
Since the 1950's, JOOLA ("YOH-LAH") has been a world leading table tennis brand. From being the official table tennis equipment supplier for 3 Olympic games to the official table and apparel sponsor of USA Table Tennis, JOOLA has been dedicated to growing the sport in the United States. JOOLA is also the main sponsor of NATT's North American Tour and North American Teams Championships.
Contact
For more information about the tournament or North American Table Tennis, visit http://www.joolateams.com or http://www.natabletennis.com, or contact Tom Nguyen at 301-816-0660 or tom(at)natabletennis(dot)com. For more information on JOOLA, visit http://www.joolausa.com.