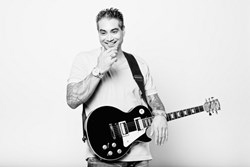 Fort Lauderdale, Florida (PRWEB) November 18, 2013
Dyce Kimura, internationally respected for his online music lessons, is proud to announce discounted prices for new students in the month of November. Those who register for Skype ukulele lessons or Skype acoustic guitar lessons will receive 15 percent off their first session with Kimura by mentioning this article.
"There's a growing demand for Fort Lauderdale guitar lessons," says Dyce Kimura, "and I want to give everyone the equal opportunity to learn music." Through Skype ukulele lessons, Kimura says that students can enjoy learning in the comfort of their own home. They still receive the benefit of interacting in real-time with a music teacher, but it's at their convenience.
Thanks to his innovative twist on music lessons, Dyce Kimura is a greatly esteemed and recognized Fort Lauderdale guitar teacher. Though he's based in Florida, Skype acoustic guitar lessons give Kimura the opportunity to connect with students throughout the globe. "There's no one that teaches ukulele in my hometown," one student says. "Online music lessons allow me to learn from one of the best."
Highly respected as a Fort Lauderdale guitar teacher, Dyce Kimura is also recognized throughout the world. As a finalist in the 2013 Truefire Next Top Guitar Instructor Competition, Kimura was distinguished as one of the most passionate and successful teachers in the world. Certainly, one of his most favorable traits is his commitment to making music lessons available for everyone.
With experience as a studio musician and live performer, Kimura brings a unique perspective to Skype ukulele lessons. "Of course, I want to teach students musical technique and theory, but I also want students to really grasp practical performance skills as well," says Kimura. Whether students want to learn bluegrass, jazz, or pop, Kimura is committed to helping students accomplish their goals.
After signing up for Skype acoustic guitar lessons, Kimura works with each student individually to assess their skill level, goal, and a fully customized curriculum. "There is no one-size fits all when it comes to music lessons," says Kimura. For those interested in music lessons, Kimura offers 15 percent off the first lesson in November with the mention of this article. Dyce Kimura enjoys working with students of all musical ability levels.
Dyce Kimura is a Fort Lauderdale guitar teacher who is still active in the music industry and enjoys sharing his insights, experiences, and knowledge with students.