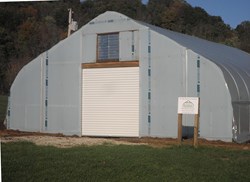 'Everything went smooth on the whole nine yards,' Johnson said. 'They were very helpful and open to our suggestions.'
Cottageville, WV (PRWEB) November 20, 2013
John David Johnson wanted to keep Jackson County's interest in local growing on the rise, and a donation by Rimol Greenhouse Systems has pushed the interest to new heights. In early October, plant production began inside a newly-built 30'x48' High Tunnel Greenhouse.
"When I'm looking at facilities, I'm looking for quality. It's structure is excellent, especially for snow support," said Johnson, an agricultural extension agent for the West Virginia University Cooperative Extension. "There's been little to no plant research carried out in this area, and I wanted to change that."
Johnson is getting local growers and university students involved as organic growing interest rises for the area's local businesses and municipalities. He caught wind of Rimol's generous run of greenhouse donations and eventually talked with company owner, Bob Rimol. The High Tunnel makes four-season farming a reality for Johnson and his counterparts.
"Rimol is a great company to work with. I told them what I needed, and they helped me out with that," he said. "Everything went smooth on the whole nine yards. They were very helpful and open to our suggestions."
Johnson and his colleagues have already begun planting cool crops. Produce includes beets, radishes, kale, and several mustards and lettuces. He's also installed two hydroponic growing towers and soil beds that measure three-feet wide. Warm weather crops set for March 2014 include tomatoes, cucumbers, and squash.
"With the greenhouse's extra support, it gives you extra options for trellising lines," Johnson added. "The high tunnel is necessary for these shorter seasons. Here in West Virginia, it's a bit of a culture shock weather-wise if you're from southern Georgia like I am. Now, we have the resources for four-season growing."
Rimol's High Tunnel Series ranks among one of the the manufacturer's most popular. It's snowload capacity is a major selling point, as well as its rich history of quick return on investment.
"Farmers want to see new things work first," said Johnson. "And when they do, they see how great the idea is, and they're more likely to jump onboard with it. This greenhouse is like a hand in a glove. We have our research, teaching, and service missions all built into it."
About Rimol Greenhouse Systems:
In 1994, Bob Rimol, owner of Rimol Greenhouse Systems, decided to leave his home state of New Jersey and relocate with his young family to New Hampshire. Bob began working as a greenhouse manufacturer's representative specializing in structures and systems. However, he soon realized the need to "build a better mousetrap" and set out to customize greenhouse technology in order to better suit the needs of his customers. Bob then founded Rimol Greenhouse Systems in order to provide innovative and quality greenhouse technology for local growers.
Rimol Greenhouse Systems has since developed a number of free-standing greenhouses, benches and an entire line of products to complement the greenhouse structures. Other structures include the movable The Rolling Thunder™, high tunnels, and hydroponic systems. All Rimol Greenhouses are designed to be economical, yet rugged enough to handle the harshest snow and wind conditions experienced in New England and many other regions of the country.
Today, Rimol Greenhouse Systems has become a major greenhouse manufacturing company and has developed a brand name synonymous with quality. Although the company has grown and expanded, Rimol Greenhouse Systems still ensures that it is meeting the individual needs of every customer. Rimol products can be found all across the United States.