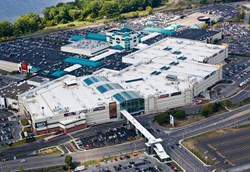 With Destiny USA and this easy 5-step guide, every shopper can enjoy Black Friday.
Syracuse, NY (PRWEB) November 18, 2013
Whether a veteran Black Friday deal-snagger, or a shopper uncertain about venturing into the chaos after Thanksgiving dinner, every consumer could use a survival guide to Black Friday.
Destiny USA in Syracuse, NY sees thousands of shoppers between the evening of Thanksgiving, through the early hours of Black Friday and well into the rest of that day. Visitors travel from all over the U.S. and Canada to take advantage of the exclusive Black Friday deals and savings from the luxury outlets, restaurants and entertainment venues at Destiny USA.
This year, the Destiny USA has made it even easier for shoppers to enjoy – yes, enjoy – this day. Here's a 5-Step Black Friday Survival Guide:
Step One: Select Top Priority Stores and Research Deals in Advance
The most popular choices typically include Apple, Best Buy, Disney, Macy's, Lord & Taylor, Saks Fifth Avenue OFF 5th, Michael Kors, Victoria's Secret and more. And at Destiny USA, they're all under one roof. The trick is to do some research, find where the best deals are, and get to that store early. Destiny USA also offers "Shop & Stay Packages" with Syracuse hotels that include overnight accommodations, a $25 Gift Card to Destiny USA and a Passport of Savings full of coupons for many of the stores.
Step Two: Map Out an Itinerary Based on Location and Opening Times for Ultimate Efficiency
Each year Black Friday starts earlier. Stores are now opening even before some Thanksgiving meals have started. Find out which stores are opening when, and then map each of the retailers to identify the most efficient routes between them. This includes scoping out the parking situation in advance, too. Because all of the retailers and venues at Destiny USA are under one roof, it's easy to get everything done in one location. Many of the stores at Destiny USA will open at 12:00am on Black Friday to celebrate the "official kickoff" of the 2013 Holiday shopping season. Details for each store's specific hours are available at http://www.DestinyUSA.com/Holiday.
Step Three: Divide and Conquer
Once a plan is set, arrive in a group and designate who will shop at each store. Share lists so that one person can get everyone's wish list items at each specific retailer. Because Black Friday shoppers accumulate a lot of stuff in a very short period of time, shoppers may need to make several trips out to the car to drop off packages. A great parking spot will make this easy; but if the car is parked far away, then another option is to use valet service if it is offered. Shoppers at Destiny USA can enjoy valet parking at the Saks OFF 5th entrance for $5.
Step Four: Make Time for Food, Beverage, and Bathroom Breaks
Even after a Thanksgiving feast, shoppers will get hungry and thirsty again – and food isn't always convenient or even available at 3 or 4 am. Destiny USA gives plenty of food options. For example, most of Destiny USA's restaurants will be open at 2 AM and remain open through Black Friday, allowing shoppers to weigh the shortest lines and not have to stray too far from the planned route for a quick bite. It's also important to know where bathrooms will be available, too.
Step Five: Bring the Family, Have Fun and Relax
The adventure of Black Friday does not need to be rushed or stressful. While shopping at luxury brand outlets at Destiny USA, you can blow off steam by racing an electric go kart at speeds up to 45 mph at Pole Position Raceway, test yourself on the largest indoor ropes challenge course in the world at Wonderworks, play arcade games built for kids and adults at Dave & Buster's, or go bowling at Revolutions. And a stunning three-story glass atrium provides perfect weather year round.
Destiny USA wants to hear from shoppers, too. Share experiences and tips on Twitter with @DestinyUSA using hastag #bestnightever, on Facebook at facebook.com/DestinyUSA2012, and in an interactive Black Friday poll available at http://www.destinyusa.com/news.
Destiny USA is a 2.4 million square foot tourist destination in Syracuse, NY that includes a strong mix of luxury outlet tenants, restaurants and entertainment. New brands are continuing to open to create a unique and dynamic consumer shopping experience. A stunning three-story glass atrium provides perfect weather year round. Oxford Economics has projected an annual visitation rate of over 29 million visitors from throughout the U.S. and Canada. Destiny USA is expected to be the second most visited shopping center in the country, according to Travel and Leisure magazine. It is the largest LEED® Gold certified retail commercial building in the world.