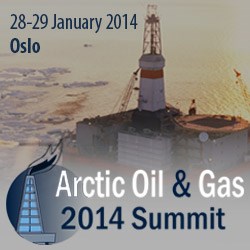 It's an IRN Summit!
(PRWEB UK) 18 November 2013
The leading D&W Engineer for Lukoil's Overseas North Shelf at Lukoil Norge, Mikhail Mosesyan, will be part of the speaker faculty at the upcoming Arctic Oil & Gas 2014 Summit, organised by IRN on 28th-29th January in Oslo, Norway.
The meeting will bring together key players of the region to explore effective ways to unlock energy resources in the Arctic and actively promote cooperation of the private and public sector.
The Hydrocarbon Licensing Manager at the National Energy Authority in Iceland, Thorarinn Sveinn Arnarson, will be also speaking at the summit about the potential of the Dreki Region.
Canada's Ambassador to Norway, His Excellency David Sproule, will be representing the new chairmanship of the Arctic Council in Canada, speaking about the Canadian Arctic.
Furthermore, amongst the experts speaking at the summit will be Steffen Weber, the Secretary General from EU-ARCTIC Forum, Vasiliy I. Bogoyavlenskiy, Deputy Director at the Russian Academy of Sciences and Institute of Oil and Gas, Trond Kristensen, Senior Geophysicist, Lundin Norway AS, and Igor Litvinyuk, Senior Analyst from the Moscow State Institute of International Relations and Ministry of Foreign Affairs of the Russian Federation.
The Arctic Oil & Gas 2014 Summit will be sponsored by the leading Norwegian law firms Selmer and ARNTZEN de BESCHE. More information about the summit and the speaker faculty can be found on the website http://www.oilgasarctic.com.