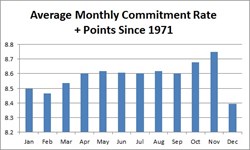 The average monthly mortgage rate in November since 1971 has been the highest at 8.74%.
Knoxville, TN (PRWEB) November 15, 2013
Technical analysis is the study of past price movement/occurrences to predict future market movements. Those who study past movements, "technical analysts" use multiple pattern recognition techniques to forecast markets. Peoples Home Equity used historical data published from Freddie Mac's "30-Year Monthly Average Commitment Rate" on mortgages since 1971 and found that November, on average, has offered the highest mortgage rates since 1971. The lender leaves the forecasting work for their loan applicants and readers to decide.
The average monthly mortgage rate in November since 1971 has been the highest at 8.74%. This number may not seem extreme when compared to that of October, 8.68%, or May at 8.61%. However, when one looks at a graphical representation of these mortgages rates by month, then some statistical significance may be understood, especially given that the data has been recorded for 43 years. Note that November is only shown as relatively more expensive than other months in terms of average because only once in 2005 did November record the highest 30-year rate.
If we change the time period to the past 10 years, November remains for "most expensive" in terms of rate height. November shows an average monthly rate of 5.52% from 2003-2012 vs. 5.395% and 5.39% posted in June and July from 2004-2013 (both are 10 year periods). Interestingly, we have seen the 30-year fixed rate climb throughout this year from 3.41% in January to over 4.30% now.
A possible explanation for why interest rates tend to climb throughout the middle months of the year is that as spring and summer come along home sales tend to rise causing more demand for mortgages, thus, higher interest rates. Conversely in the winter months fewer individuals want to go out and look at property listings when it's cold outside, thus demand for homes sales declines and so might mortgage rates.
Peoples Home Equity wants readers to know that on a positive note, interest rates, relative to other months, have been the lowest in December, January, and February for the 43 years recorded. The lender also wants readers to know that while interest rates may show a bias to climb in November, so may property values. Typically when interest rates climb, due to positive economic conditions, so too are property values.
Given that we are currently in the middle of November, first-time homebuyers who find this information useful should apply for a home loan now and lock in a mortgage in the coming weeks of December. Be forewarned, however, that if the Federal Reserve gives any indication of tapering its asset repurchase program (QE3), then rates would probably rise, even in the winter months.
Visit the Peoples Home equity website today, to start applying for a mortgage today to using their "Home Loan Quick Qualifier" field, it's quick and easy!