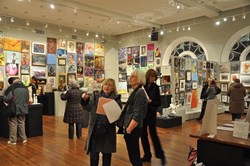 Remarkable work at affordable prices.
New York, NY (PRWEB) December 03, 2013
This holiday season, give the gift of art. Visit the Art Student League of New York's annual Holiday Art Show and Sale on Friday, December 6 through Sunday, December 22 at 215 West 57th Street.
More than 500 works are on sale. Paintings and prints—landscapes, portraits, still lifes and abstract works—sell for $100 to $800. Prices for sculptures are capped at $1,200.
Every year buyers—including gift-givers, interior decorators, and art lovers—bring home a wide variety of fine art sold at an affordable rate. Many artists in the show include those represented in New York galleries and museum collections. Last year nearly 200 works of art sold for just over $50,000.
The League's Phyllis Harriman Mason Gallery is located at 215 West 57th Street between Seventh Avenue and Broadway.
Hours are:
Monday through Friday: 9:00 a.m. to 8:00 p.m.
Saturday and Sunday: 9:00 a.m. to 4:00 p.m.
About the Art Students League of New York
The Art Students League of New York is one of America's premier art schools. It was founded in 1875 by artists, for artists, to provide affordable studio-based art education of the highest quality to those interested in making art. Great artists have trained, taught, and exhibited at the League throughout its rich history. Apprenticeships, classes, lectures, workshops, exhibitions, and residencies continue the League's legacy of supporting artists and students who intend to make art a profession, and of cultivating a spirit of fraternity among art students.