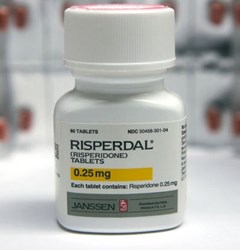 (PRWEB) November 21, 2013
The law firm McSweeney / Langevin is now investigating the alleged link between Risperdal and Gynecoomastia. Gynecomastia is the enlargement of breast tissue in males, involving breast growth, puffy nipples, enlarged nipples, breast pain, nipple discharge, a gynecomastia diagnosis, and/or a mastectomy to remove breast tissue.
Risperdal (risperidone), manufactured by Johnson & Johnson, is prescribed to adults and adolescents for approved and unapproved ("off-label"). Approved uses include Schizophrenia for adults and adolescents and Bipolar Disorder for adults and adolescents. Risperdal has been prescribed off-label for the following uses: anxiety, attention-deficit hyperactivity disorder (ADD), dementia, depression, adjunctive treatment, eating disorders, insomnia, obsessive-compulsive disorder, personality disorder, post-traumatic stress disorder, substance abuse, and Tourette's syndrome.
Earlier this month, Johnson & Johnson pleaded guilty (US v. Janssen Pharmaceuticals, 13-cr-00605, US Dist. Crt. E. Dist. Penn.) to misbranding Risperdal and marketing Risperdal to patients for unapproved uses. In addition, civil claims allege Johnson and Johnson paid kickbacks to physicians and pharmacies in exchange for prescribing Risperdal.
A June 2006 study conducted by Duke University found the risk of male breast tissue growth following the use of Risperdal was greater as compared to other antipsychotic drugs.
On November 4, 2013, The New York Times published J&J to Pay $2.2 Billion in Risperdal Settlement in response to Johnson & Johnson's agreement to resolve criminal and civil fines stemming from accusations it improperly promoted Risperdal to children and people with developmental disabilities. Federal prosecutors alleged Johnson & Johnson told its sales representatives to visit child psychologists and mental health facilities that mainly focused on children, promoting the drug as a safe treatment for disorders like attention deficit hyperactivity disorder and obsessive-compulsive disorder. These uses would have been considered off-label.
McSweeney / Langevin is offering free legal consultations to men and families of adolescent boys interested in learning more about legal options available to compensate for pain and suffering and unnecessary surgeries as a result of off-label uses of Risperdal. The consultation if free and private. A McSweeney / Langevin Risperdal attorney can be reached at 1-800-888-4425 or dave(at)WeStrikeBack(dot)com.