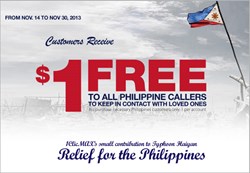 "We are always stronger when we are helping each other," noted Darren Lu CEO of Lunex.
Atlanta, Georgia (PRWEB) November 16, 2013
1-ClicMAX™, a brand of Lunex Telecom, Inc. ("Lunex"), is offering free minutes to the Philippines for customers attempting to establish a connection with friends and family, currently displaced in the aftermath of Typhoon Haiyan.
Beginning on November 14, 2013, customers will be able to contact 1-ClicMAX™ via Live Customer Support (1.888.333.6808) for information on how to redeem this offer. All Philippine customers will be given $1.00 (7-10 minutes), to call either Philippine landlines or mobile phones. Customer Support can assist the customer directly in the redemption of the offer, or can locate the closest retailer for in-store redemption. This offer will be valid through November 30, 2013 and is only open to customers who call the Philippines.
Lunex has an established history of helping the Philippine community in times of need. Following a magnitude 7.1 earthquake that struck central Philippines October 15, Lunex established a promotion through their brand 1-ClicMAX™ assisting those in the United States needing to establish contact with loved ones. "We are always stronger when we are helping each other," noted Darren Lu CEO of Lunex. "At a time like this, what matters most is being able to make that connection with your family and friends. We aim to make that happen."
About Lunex Telecom:
Lunex Telecom, founded in 2004, is an FCC licensed international telecom provider based in Atlanta, Georgia. Lunex is the pioneer in pin-less international long distance calling plans, and is the leader in providing international mobile top-ups, covering 330 mobile destinations in 114 countries, the largest coverage of any provider. Their diverse product offering combined with innovative technologies make Lunex a front-runner in the prepaid telecom industry. For more information about Lunex Telecom products visit Lunextelecom.com. For more information about 1-ClicMAX products visit 1ClicMAX.com.