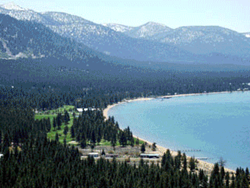 Use these tips to keep the cash flow to a minimum while still making the most of Lake Tahoe!
Lake Tahoe, CA (PRWEB) November 18, 2013
Everybody knows Lake Tahoe is one of the most incredible vacation spots for a winter getaway, and everybody also knows it can get pricey. From the upscale hotels to lift tickets and rentals, a Tahoe winter vacation can really put a hole in the wallet. Which is why the tourism experts at VirtualTahoe.com have put together some money saving tips to help alleviate some of those "I spent too much money" blues. Use these tips to keep the cash flow to a minimum while still making the most of Lake Tahoe!
1.) Stay at a Budget Hotel
Those little chocolates on the pillow are not worth the extra arm and leg not to mention an extra bengi! Plus, they still fold up the end of the toilet paper roll at budget hotels! Let's face it, any hotel in Lake Tahoe is still in Lake Tahoe, so it doesn't matter that it's not the Grand Grand of Grand Grands. Most hotels in Lake Tahoe boast beautiful views or a fantastic location so save the cash for other things. In South Lake try the popular 3 Peaks Resort & Beach Club (motel rooms, suites and a 5-bedroom cabin), Best Western Station Inn, Blue Lake Inn, Cedar Inn Stateline or even the the Forest Suites at Heavenly Village where their oversized suites can fit 4-6 sleepy folks). Another great option are two of South Tahoe's casino hotels - the Horizon (great, low rates) and the Lakeshore Inn & Casino (also great rates). Favorite budget hotels in North Lake include Pepper Tree Inn and Tahoe City Inn.
2.) Pack Tons of People into one Vacation Rental
That's right! When vacationing with a group just do the math - a vacation rental can end up fitting the definition perfectly when it comes to "cheap". And a rental is only cheap in price as most are nice, if not beautiful, cabins, homes or condos with nothing cheap about them. So check out plenty of vacation rental options offered through experienced rental companies that offer hundreds of options in all shapes, sizes, and price ranges.
3.) Take a Hike
Rather than strapping on the skis, strap on the snow shoes! Lake Tahoe is famous for incredible hiking trails and exploring the area on foot is one of the best ways to fully appreciate the beauty of Lake Tahoe. Hiking is a free activity, but shoeshoes might be necessary for certain trails. Rent snow skis from Powder House, located in South Lake Tahoe, or Tahoe Dave's in North Lake Tahoe.
4.) Sit in the Lodge and Hang Out
It may sound weak but plenty of people enjoy first class surroundings without spending a dime. There is no entrance fee, minimum food purchasing requirement… even parking is free. Nobody walks by and gives the evil eye or hints someone should leave - it's common in the ski world and completely welcome and normal. Hang out while others ski & ride and read your favorite book, knit, surf the web on your iPad, work on your laptop, snack endlessly, watch the good, bad and the really good or bad out on the slopes, drink (responsibly), watch TV at one of the many large screens around the typical ski lodge, or just space out or nap near one of the cozy, giant lodge fireplaces. At Squaw and Northstar there are even "villages" to cruise around in and enjoy.
5.) Cast the Line
Fishing? In the winter? Absolutely! Fishing in Lake Tahoe is a year round activity, so don't be afraid to cast a line and reel it in. Save some money and bring up some poles, or spend a little extra and try Tahoe Sport Fishing (recommended!). Tahoe Sport Fishing offers unforgettable guided fishing trips and supplies everything needed for a memorable fishing trip. Great for all ages.
6.) Grab a Trashcan Lid or a $5 Saucer
Old fashion sledding is one of the best ways to spend a day without spending a dime or at least very little. Tahoe Meadows at Mount Rose is a free option, but be careful with parking and make sure to use the restroom before you go! Other sledding hills to check out: North Tahoe Park ($5), Hansen's Resort ($5), and Granlibakken ($9).
7.) Take a Drive
No trip to Lake Tahoe is complete without an afternoon drive around the Lake. With an endless amount of breathtaking stopping points, it might take longer than the estimated two hours. Pack a picnic and make a day out of it! Don't miss these vistas: Emerald Bay, Logan Shoals, Inspiration Point and Cave Rock (the list could go on all day).
8.) Swim in the Lake
Probably not…. But if you did, the value would be, of course, priceless.
About VirtualTahoe.com:
VirtualTahoe.com, Lake Tahoe's number one online guide, provides quality information on all things Tahoe. Use VirtualTahoe.com to find information on everything Lake Tahoe from vacation lodging and casinos to ski resorts and boat rentals. Lindsey Skinner, editor of VirtualTahoe.com, knows all the secrets when it comes to planning a Lake Tahoe Vacation.