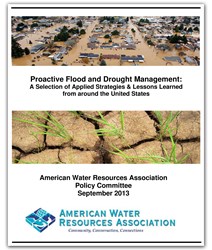 Our planet is changing. Flood and drought issues transcend every part of our nation.
Middleburg, VA (PRWEB) November 18, 2013
Our planet is changing. Flood and drought issues transcend every part of our nation. The case studies in the AWRA Policy Committee's newly released "Proactive Flood and Drought Management: A Selection of Applied Strategies & Lessons Learned from around the United States," report are both unusual and outstanding in their success at integrating flood control or drought mitigation with other water resources objectives, and provide usable examples of multiple agencies and public policy objectives being combined to devise a proactive flood or drought management program. Case studies include:
Flood Management:

The Chehalis River Basin in Washington
The Miami Conservancy District in Ohio
Easton, Pennsylvania
Nashville, Tennessee
Drought Management:

The San Antonio Water System (SAWS)
The State of Oregon
The State of Hawaii's Drought Plan
Lone Chimney Water Association, OK
Based on these case studies, the AWRA Policy Committee makes several specific strategy recommendations on how to enable, design and implement proactive flood and drought management efforts.
To encourage and facilitate discussion of the ideas and recommendations contained in this report, a series of three webinars have been scheduled. Click here for more information, or to register for the webinars.
Webinar dates and topics are:
Thursday, November 21, 2013, 2:00-3:15 PM EST
Subject: Overview of the Flood and Drought Policy Report
Presenters: Brenda Bateman - Lauren Dennis - Don Duke - Wayne Wright
Moderator: Michael Campana
Thursday, December 5, 2013 2:00-3:00 PM EST
Subject: Floods - Easton, PA and Miami Conservancy District, OH
Presenters: Becky Bradley, Easton, PA; and Kurt Rinehart, Miami Conservancy District, OH
Moderator: Michael Campana
Tuesday, December 17, 2013 2:00-3:15 PM EST
Subject: Droughts - San Antonio, TX and State of Hawaii
Presenters: Karen Guz, San Antonio TX; Neal Fujii, State of Hawaii
Moderator: Michael Campana
AWRA Policy Statements
AWRA has developed a number of policy statements during the past five years, signaling those areas in which further public policy development could greatly improve our ability to manage water in the United States. These policy statements have called for (1) a national water vision and strategy, (2) integrated water resources management, (3) managing water resources within a hydrologic context (i.e. within basin or watershed boundaries), and (4) sustainable funding for water-resource infrastructure. View Policy Statements.
About AWRA
Since 1964, American Water Resources Association has been dedicated to the advancement of water resources management, research and education, as well as a balanced approach toward solving water resources challenges. AWRA's membership is comprised of professionals who share a common interest in working and learning across a wide range of disciplines focused on water resources policy, practice and education. Visit AWRA. Download complete report.