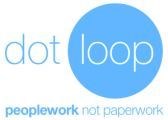 Cincinnati, OH (PRWEB) November 15, 2013
Businesses that put people first, not technology, will succeed in the post-digital, people revolution. That's the theme of "Peoplework: How to Run a People-First Business in a Digital-First World," by dotloop founder and CEO Austin Allison and real estate evangelist Chris Smith, with a foreword by New York Times bestselling author Gary Vaynerchuk. The book is available now for pre-order at Amazon.com.
PEOPLEWORK focuses on how the last decade of innovation has empowered businesses, regardless of industry, to work better with people and to deliver the human experiences that consumers expect. Allison and Smith explain why businesses must put people first in order to succeed in our digital world. Each chapter of PEOPLEWORK focuses on a single PEOPLEWORK principle, including "Human Companies Win," "Service is Marketing" and "Businesses are Built on Communities."
Allison and Smith funded PEOPLEWORK through a Kickstarter campaign that raised more than $73,000 in 30 days, the second-highest funded non-fiction project in Kickstarter history.
More on the News:
1. PEOPLEWORK will ship in January 2014. To pre-order a copy, please visit Amazon.com.
2. To learn more about PEOPLEWORK or download a complimentary chapter, please visit http://www.pplwork.com.
3. Real estate professionals are eligible for a free, signed hard copy of PEOPLEWORK. To enter, please visit http://dotloopnow.com/peopleworkentry.
4. To read Austin Allison's regular column, The Future of People(Work), on Inc.com, please visit http://www.inc.com/author/austin-allison.
5. The authors will conduct a 20-city North American book tour with dates and venues to be announced soon.
About dotloop
dotloop is an online workspace where real estate professionals share and sign documents, collaborate, communicate, monitor and manage the entire transaction, start to close. Using dotloop, brokers increase visibility, office productivity and compliance, while agents focus on what matters most in real estate: delivering great experiences that buyers and sellers love.
dotloop is the fastest-growing software company in real estate today, used by more than 700,000 professionals -- serving more than 11 million buyers and sellers. The company is based in Cincinnati, Ohio and backed by Trinity Ventures.
Follow dotloop on Twitter: https://twitter.com/dotloop
Follow dotloop on Facebook: http://www.facebook.com/dotloop