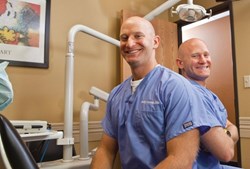 Austin, TX (PRWEB) November 18, 2013
Teeth, tongues and gums often reveal far more than just the state of the mouth—they can also tell a story of bodily infection and nutritional deficiencies. With recent research that shows a strong correlation between oral health and that of the rest of the body, the dentists at Family Tree Dental Group are adapting the way they see patients to include a bigger picture approach.
Systemic or whole body diseases are often first noticed because of warning signs like lesions or gum inflammation that appear in the mouth. While swollen and bleeding gum tissue may simply mean a patient is facing gum disease, it could actually relate to something far more serious.
Because the mouth often acts as an early warning sign for systemic problems, Family Tree Dental Group uses more than just x-rays to evaluate patients. By utilizing quick and simple tests like blood pressure checks, oral cancer screenings and blood glucose screenings, dentists can detect signs of HIV, syphilis, high blood pressure, cancers, infections, and more.
"Dentists see the average patient twice a year, which makes us the healthcare professional that people interact with the most," said Dr. Chad Denman, Austin dentist / Round Rock dentist and owner of Family Tree Dental Group. "Some folks only see their general practitioner when they're in serious pain, and by then a disease or infection may have caused severe damage to the body. Since the mouth is a telltale of bigger systemic issues and since the patients are already in our chairs, we feel an obligation to check for problems beyond cavities and gum disease. We're in the business of saving teeth, certainly, but we're also dedicated to saving lives."
Family Tree Dental Group was founded in 2011 by Austin dentists - Round Rock dentists and identical twin brothers Drs. Chad and Shelby Denman to provide high quality dental care in a state-of-the-art environment with careful attention to detail and deep personal respect. Family Tree Dental Group helps maintain the oral health of patients of all ages and cares for all dental needs under one roof. For more information, call (512) 458-5999 in Austin, (512) 310-3999 in Round Rock, or visit http://www.FamilyTreeDentalGroup.com.