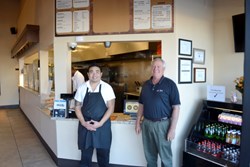 PHOENIX, Arizona (PRWEB) November 18, 2013
Red-Fork Hospitality Solutions, a leading provider of mobile and online hospitality ordering solutions, announced today that they have implemented their Windows 8.1 platform kiosk solution at Pasta Fresh in Las Vegas, Nevada. Red-Fork's kiosk solution is fully integrated with the Dinerware, Inc. Point-of-Sale system, and provides a quick, self-serve interface for patrons. Reduced waiting in line during rush times allows the restaurant to serve more customers with the same human resources. The hands off design means employees can focus on other tasks during peak order times.
"Red-Fork's kiosk solution gives our Dinerware clients an interactive tool that creates a memorable user experience. Through a combination of our POS integrated software and a partnership with affordable and durable tablet hardware providers, our sophisticated kiosk system allows us to provide a value-added proposition for medium to small restaurateurs, previously only available as a high-end installation," said LeAnne Black, Director of Marketing with Red-Fork Hospitality Solutions.
Red-Fork partnered with Motion Computing, Inc. to provide the hardware for this implementation. The Motion J3600 device is running Microsoft Windows 8.1 in kiosk mode and uses an Intel iCore 3 processor for a breathtaking user experience.
About Red-Fork Hospitality Solutions
Red-Fork Hospitality Solutions, LLC is a Phoenix-based developer of brand-able and easy-to-use mobile ordering and kiosk software solutions that provide extended customer reach and increased sales and order accuracy for restaurateurs. Red-Fork's applications allow patrons to view a restaurant's full menu, where they can place orders for pick-up, delivery, dine-in, and even pre-order days in advance, which give greater flexibility and convenience to both the patrons and restaurant operators. For more information please visit http://www.red-fork.com.
About Dinerware, Inc.
Founded in 2000, Seattle-based Dinerware provides restaurant point of sale software solutions to the hospitality industry. Dinerware can be found in upscale restaurants, cafes, nightclubs, bar and grills, fast casual restaurants, counter service establishments, quick serve restaurants, hotels, casinos, cafeterias, golf courses, and wineries. See more at http://www.dinerware.com.
About Motion
Motion Computing® empowers businesses worldwide with technology solutions designed to optimize the performance of mobile workers. Building on a foundation of award-winning technical expertise and decades of industry experience, the Motion® team makes it their business to understand your business. Through industry-leading rugged tablet PCs, tailored accessories and services. Motion delivers mobile technology solutions customized to business workflows. Customers report lower operational expenses, increased efficiency and enhanced customer service. Motion makes its solutions available through a global network of value added resellers and distributors. For more information, visit http://www.motioncomputing.com.
About Pasta Fresh
Pasta Fresh is a new concept quick serve restaurant in Las Vegas, Nevada. Pasta Fresh began with a vision between lifelong friends to serve people good food, with fresh local ingredients at a reasonable price. A variety of concepts came to mind, but only one ingredient really topped the rest when asked to associate our core value with a food theme. That value is "Family" and the food that came to mind…"Pasta". All doughs are made in-house then rolled-out, cut and cooked for each order. Pasta Fresh has an open kitchen so you can watch your meal preparation. Visit Pasta Fresh online at http://www.pastafreshvegas.com.